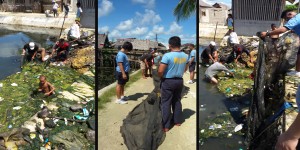 The spirit of "bayanihan" is already a part of the lives of the people of Brgy. Asinan, Pilar, Surigao del Norte (Island of Siargao). Having been part of the Kapit-Bisig Laban sa Kahirapan – Comprehensive and Integrated Delivery of Social Services (Kalahi – CIDSS) since 2006, the community has since developed a sense of unity, especially on matters related to their community's development.
With the utilization of the Community – Driven Development (CDD) initiative, which provides communities direct control of the development process, resource allocation and decision making of their community projects, Kalahi-CIDSS has etched a sense of responsibility to the psyche of the people of Asinan, especially in taking care of their community sub-projects.
With the integration of the Thematic Environmental Management System (TEMS) (a systematic approach in promoting the protection and maintenance of the projects through alternative ways using natural resources), the community decided to conduct a clean-up drive to rid their coasts of trash and debris that may damage their Kalahi-CIDSS – funded sea wall project. The activity, which was part of the TEMS undertakings for Kalahi-CIDSS, was attended by different groups and individuals (from LGU/Barangay – LGU workers, different socio-civic groups from Pilar, the local PNP, and most specially, community volunteers from Asinan and other neighboring barangays), endured the warm weather in cleaning the area around the barangay coast.
Photo Credit: Sheree Dela Victoria (Community Empowerment Facilitator) Pilar, Surigao del Norte