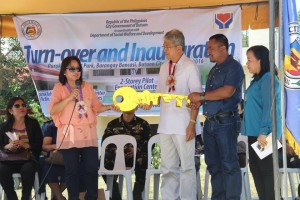 Butuan City- The Department of Social Welfare and Development (DSWD)-Caraga turned over on June 8, 2016 the four (4) Bottom-Up Budgeting (BUB)-funded infrastructure projects, amounting to P20M, in the city.
These are the following projects: Home for Boys (Php4,000,000), Rehabilitation Center for Children and Young Adults with Disabilities (Php3,000,000), Women Productivity Center and Facilities (Php4,000,000), and Response, Rehabilitation, and Development Center for Victims of Disasters and Calamities (Php9,000,000).
The local government unit (LGU) of Butuan provided a contribution of Php3,923,076.92 for the realization of the mentioned projects.
The Rehabilitation Center for Children and Young Adults with Disabilities will cater PWDs specifically the children and the young adults with disabilities in the entire 86 barangays and also those from other places within or even outside the region that are in need of its services.
Realized for the street children, the Home for Boys is a facility to serve as reception center to provide a temporary and nurturing home for the street kids where rehabilitative activities will be conducted until reformations desired will be attained for them to be mainstreamed back to the family and community.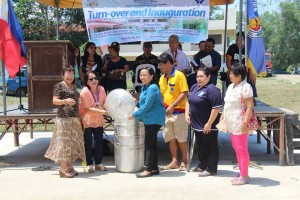 In consideration of Butuan City as one of the calamity and disaster-prone cities in the country, the Development Center for Victims of Disasters and Calamities aims to provide a Disaster Risk Reduction Training Center and Facilities for the Community Based Disaster Risk Reduction Organizations, People's Organizations and other DRRM organizations for disaster preparedness, mitigation, response, relief, and rehabilitation.
To be operated and managed by the Butuan City Women Federation, the productivity center will serve as central showcase center for any livelihood products manufactured/made by women organizations and will be a venue for capacity development of the members of the federation.
Regional Director Minda B. Brigoli who personally graced the turn-over ceremony expressed delight in her message on the facilities constructed for the vulnerable and disadvantaged sectors.
"Because we love our sectors, these multi-stakeholder projects were pushed through by the DSWD, the LGU, and other stakeholders," Brigoli said.
"Now that these facilities are already turned over, the remaining challenge would be its sustainability," she added.
The BUB is the government's reform program that institutionalized the people's participation in the budget process. It is a strategy that hopes to empower civil society organizations and citizen's groups to engage local government and national government agencies and make them more responsive to the people's needs. DSWD is one of the implementing agencies of the said program. ###(Social Marketing Unit/DSWD Field Office Caraga)