Cagayan de Oro City – The Department of Social Welfare and Development (DSWD) Field Office Caraga, in partnership with the Southeast Asia Rural Social Leadership Institute (SEARSOLIN) of Xavier University, Ateneo de Cagayan has provided DSWD staff the opportunity to earn Developmental Leadership units through a six (6)-month short course training program.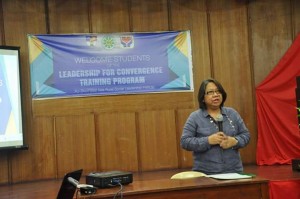 The Leadership for Convergence Training Program (LCTP) is a capability building intervention that provides an opportunity for the City/Municipal Action Teams (C/MATs) nationwide to be functional and maximize operationalization of Convergence Strategy. The capacity building measures constituting the training are composed of five (5) modules which are spread over 6 months and will be delivered by SEARSOLIN, the academic partner of Caraga regional office.
This endeavor is conducted to capacitate the C/MAT leaders in dealing with their respective Convergence Teams, composed of Pantawid Pamilya, Kapit Bisig Laban sa Kahirapan-Comprehensive and Integrated Delivery of Social Services (Kalahi-CIDSS), Sustainable Livelihood Program (SLP), and other DSWD project staff assigned in the different areas in the region.
In her welcome speech to the C/MAT leaders during the first day of their training last May 27, 2016 at SEARSOLIN, Cagayan de Oro City, Assistant Regional Director for Operations, Mita Chuchi G. Lim expressed the Departments heartfelt gratitude to Xavier University for partnering with the DSWD Caraga for the training. She was hoping that the participants would make sure that they will be able to maximize their efforts for such an important capacity building training.
Luther Labitad, Faculty-In-Charge, who will be head instructor for the program hoped that the Friday-Saturday sessions will be handy to the participants, and hopes that it will not be a hindrance to their respective workload. This is why the class schedules would shift from SEARSOLIN (for module 1) to Butuan City (for the remainder of the modules) for the participants' convenience.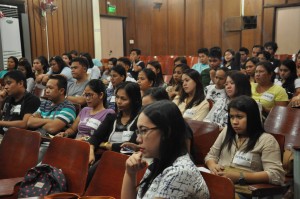 The training hopes to yield detailed understanding of their roles as leaders of the organization who have the capacity to harness the potentials of their respective members and external partners towards effective implementation of the programs.