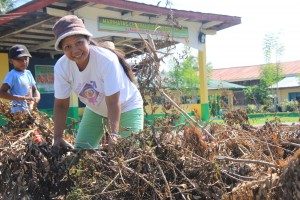 Every Brigada Skwela that happens before the official opening of the class, Liezel leads her Pantawid Pamilya members to actively participate in the said activity.
Liezel, 46, is an active Pantawid Pamilya parent leader from Barangay Poblacion, Marihatag, Surigao del Sur. She is married to Niel Dubduban, 46, and is blessed with two (2) children, Niel John, 9, and Neizel, 14. Both are now studying in Marihatag Central Elementary School and Holy Child Academy, respectively.
To her, supporting school activities is not just an obligation of the parents but is a social responsibility of everyone.
Sacrifice for a cause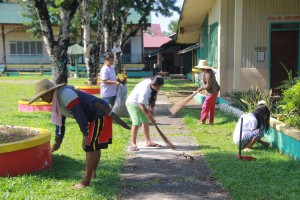 "Brigada only happens once a year. This activity does not just prepare the school for the opening of the class but also prepares the students to gear up. It is also an avenue for parents to discuss amongst ourselves what we could contribute to make the school year a wonderful experience to every aspiring student." she furthered.
During the special brigada which was participated by Pantawid Pamilya partner-beneficiaries, Liezel led her member in the four (4)-hour school campus clean-up drive
"While things are hard when you do it alone, doing it with your family makes a difference. There is joy, happiness and passion. And when you get to the point that you have accomplished your turn, the tendency would be, you are more willing to help others to get their things done." Liezel shared.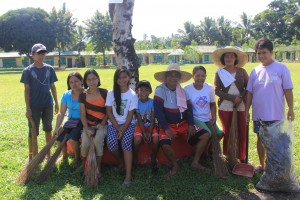 "When I was asked how much I treasure my family, I whispered for an answer. They are my everything. Without them, I would be nothing.  With them, I can do great things." She added.
Her story
As relayed by Liezel, sending their children to school was their major problem before. Their income is not even sufficient to buy their personal needs. Nonetheless, both crossed fingers to provide for their family and to sustain their children's schooling.
"It was not an easy experience. Before, it was difficult to buy some needed materials in school because we don't have anything in our pocket. During those times, I asked myself if I was a good mother to my children. I couldn't find an answer, until the time that my youngest smiled at me. No word breached the silence. But that smile penetrated into my soul and challenged me to do better for my family." Leizel opened.
Her ability to connect with the children and understand their little needs has challenged Liezel to accept the chance to work as a kindergarten teacher.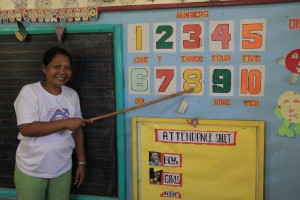 "Teaching my pupils was a blessing in disguise. When I first entered into the classroom, I told myself that I was there to work so I could augment the needs of my children. But teaching is really a part of me. Failing in the Licensure Examination for Teachers (LET) was not a judgment day to me, but an opportunity to look back and savour memories. From then on, I became so inspired in teaching the basics to my pupils and help them shape their dreams." Liezel added.
Responsible community member
Her dedication and passion has made her a recipient of the Most Outstanding Day Care Worker in Caraga Region award.
Aside from being a good teacher and an active parent leader, Liezel is a supportive mother to her children. She always supports their needs especially when it comes to extra-curricular activities and to school activities that involve parents as participants.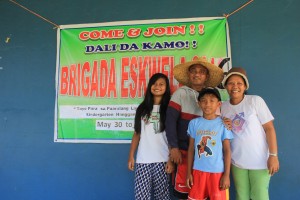 She is also a dedicated volunteer of the Kapit-Bisig Laban sa Kahirapan-Comprehensive and Integrated Delivery of Social Services (Kalahi-CIDSSS) on the construction of a Production Center of Persons with Disabilities (PWD) and Women in Crisis Situation and Child Abuse.
For now, Liezel's family is tagged to be in the self-sufficient level of well-being.
This year's Brigada Skwela is themed "Tayo para sa Paaralang Ligtas, Maayos at Handa mula sa Kindergarten hanngang Senior High School". Liezel's experience together with the other mother in their community is their simple way of expressing support to their children. Through their sacrifice, they wished to inspire the students to do their best in their studies. As mothers, they are well aware of the significance of education for the future of their children.
Pantawid Pamilyang Pilipino Program, also known as Pantawid Pamilya and formerly Ahon Pamilyang Pilipino, is a conditional cash transfer (CCT) program of the Philippine government under the Department of Social Welfare and Development (DSWD). It aims to eradicate extreme poverty in the Philippines by investing in health and education particularly in ages 0–18. It is patterned on programs in other developing countries like Brazil (Bolsa Familia) and Mexico (Opurtunidades)###SocialMarketingUnitDSWDFieldOfficeCaraga###