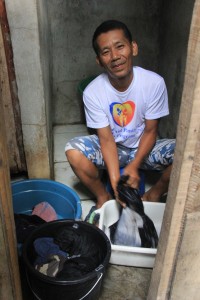 "Gibuhat nako ug buhaton nako ang tanan para makatapos lang ang akong mga anak. Palangga kaayo nako sila ug dili nako gusto nga kung unsa ang akong nasinati kay mao pud ang masinati nila mao nga ginabuhat nako ang tanan aron mahatag ang ilang mga kinahanglanon (I did and I will do everything for my children to finish their studies. I love them so much and I do not want them to experience what I have experienced so I am doing my best to provide them their needs)," Tatay Fredo said.
Alfredo Lina, 58, is a resident of Purok 8, Barangay Doongan, Butuan City and a recipient of the Pantawid Pamilyang Pilipino Program. Even if Tatay Alfredo just received the benefits of the program last year, but it has already made big changes into his life and his children as well.
He is a dedicated solo parent and he goes to the market, does the household chores, and manages the finances of the family. Doing all these, Tatay Fredo is not just the father but also the mother to his four (4) children Alline Christel, Al Christian, KC Lyn, and Apolinar III###SocialMarketingUnitDSWDFieldOfficeCaraga###
Article by Zandra May A. Perez, AB Development Communication Intern from Mindanao State University.