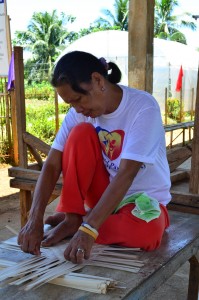 According to Pablo Picasso, action is the foundational key to all success.
 This story is same with that of Justiniana Edera Agra Producer's Association (JEDAPA), a sure product of people's initiative and empowerment.
It all started on March 31, 2013 when the 25 members of JEDAPA SEA-K Association of Brgy. Justiniana, Dinagat, Province of Dinagat Islands received Php10,000 each from the Sustainable Livelihood Program's (SLP's) SEA-K. To ensure economic sustainability, the association merged their grants for a capital, thus, collaboration with Justiniana Edera Agra Producers Cooperative (JEDAPCO) happened.
"Ang pag-abot sa SLP sa among kinabuhi naghatag ug pag-asa sa amo na makalingkawas mi sa kalisod (SLP's coming to our lives has given us hope to be free from poverty)," says Moises C. Laborte, president of their association.
The two parties became partners in managing the handicrafts production and less-interest rates micro lending projects.
Collaboration towards sustainability
The group partnered with the Municipal Agricultural Office (MAO) of Justiniana, Department of Science and Technology (DOST) and Department of Trade and Industry (DTI) which improved the quality of their handicrafts, hence, market value or price has increased. It has also upgraded the operation's efficiency.
"Dako among pasalamat sa mga partners na mingtabang sa amoa kay kung di tungod sa ilaha di mas mapaayo ang operasyon sa among negosyo (We are very grateful to the partners who have helped us because without them, our business operations would not get better)," Moses explains.
MAO conducted skills training on hat and mat weaving. En route to a more efficient business operations, DTI provided Solar Dryer and Dye Pan. Skills training on bleaching, dyeing and recycling of waste materials was conducted by DOST.
Widened opportunities
With an improved quality of products, more farmers and tourists have been patronizing the product.
Moreover, the group has been providing bulk orders to schools that join in street dancing contest. A local buyer also purchases their products which are distributed to places like Cebu, Leyte and Manila. The products are also displayed in Dinagat's DTI: One Town, One Product (OTOP).
Improving lives
 Eventually, the group's profit increased. With this, the craftsmen's honorarium has increased to Php2,000 and the officers are given Php100 per month for allowance.
Further, the production has generated income not to handicraft makers but to bamboo growers as well. As the project grows, demand on bamboo production has increased.
A growing business
The business growth has led off to putting up a General Merchandise last May 28, 2015. Today, members and non-members have access to their daily basic needs and other wide array of goods.
Last year, their Statement of Financial Condition shows the groups assets has increased from Php480,943.89 in 2013 to Php761,001.76.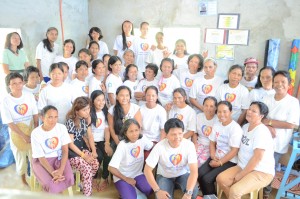 To promote active involvement in decision-making, the group conducts a monthly meeting where policies and guidelines implemented are discussed to avoid misunderstanding among the members.
At present, JEDAPA is striving more to continually improve the socio-economic well-being of its members.
"Padayon mi nga maningkamot na mas molambo pa ang among mga proyekto (We will continue our efforts for the betterment of our projects)," he concludes.
The group's success implies that hard work pays off and all toils are never in vain. JEDAPA is indeed an effectual livelihood not only to its members but to the community of Justiniana as well.###(MARY CARMELLE C. JUMAWAN/SLP/Social Marketing Unit/DSWD Field Office Caraga)