Butuan City- The Department of Social Welfare and Development (DSWD)-Caraga successfully launched on July 11, 2016 at Almont Hotel's Inland Resort the result of the 2nd round assessment of the Listahanan Project and the Regional Profile of the Poor.
The activity is part of the 1st SEM CY 2016 Social Welfare and Development (SWD)-Forum which was attended by the local chief executives in the region, Municipal Social Welfare and Development Officers, Municipal Planning Officers, National Government Agencies, Non-Government Organizations, Academe, media and other stakeholders.
Undersecretary Florita Villar of Policy and Plans Group is one of the keynote speakers of the said event. In her speech, she explained the objectives of Listahanan in uplifting the lives of poor families.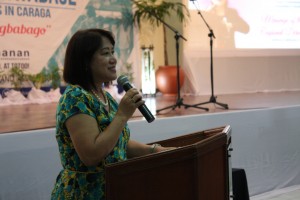 "Prior the implementation of the Listahanan, the national government struggled with having no unified, rigorous and objective basis for identifying beneficiaries of its social protection programs. That is why, the DSWD proposed the adoption of a national household targeting system that would ensure the effectiveness and cost-efficiency of social protection programs and service." Villar said.
"It seeks to minimize wastage of resources by ensuring that only those who are qualified and deserving benefit from appropriate protection programs and services," she added.
Also, Regional Director Minda Brigoli challenged the partner and stakeholders to adopt the Listahanan as the official targeting mechanism for locally-initiated and funded social protection programs and services.
"The utilization of Listahanan Database of poor as basis for identifying potential social protection programs and services recipients aligns with the LGUs mandate to implement anti-poverty programs in their jurisdiction. This will also allow LGUs to save resources originally meant for conducting costly data collection and targeting activities and utilize them to increase their program's coverage and benefits." added Brigoli.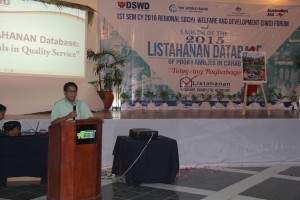 Meanwhile, Dr. Ernesto Pareja, Medical Officer V from the Department of Health (DOH)-Caraga, stated that their Department used the Listahanan Database to help the poorest of the poor, especially when it comes to health.
"One example is the availment of zero billing in the government hospital which is a huge help for the indigent. With this, we pledge to continue using the database so more people will benefit
our programs," shared Dr. Pareja.
Furthermore, Bislig City Administrator Charlito Lerog, showcased how their LGU maximized the usage of Listahanan Database that benefited by their locale.
Leah Rebuta, a Pantawid Pamilyang Pilipino Program partner-beneficiary shared her testimony and the services she got from the government after being assessed by Listahanan 1 in year 2009.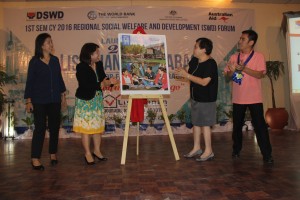 The Listahanan is a special project of DSWD which identifies who and where the poor are in the country. Last year, it conducted the 2nd round Family Assessment saturating the rural and urban areas even far-flung communities resided mostly by Indigenous Peoples (IPs). As a result, out of 494,498 households assessed in the entire region, 259,858 households were identified as poor. ###(ABEGAIL R. ALVAREZ/Social Marketing Unit/DSWD Field Office Caraga)