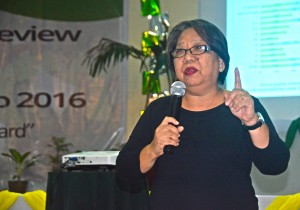 BUTUAN CITY -The Department of Social Welfare and Development (DSWD)- Caraga held its Mid-Year Program Review and Evaluation Workshop (PREW) for the Kapit-Bisig Laban sa Kahirapan Comprehensive and Integrated Delivery of Social Services (Kalahi-CIDSS) program at Almont Hotel's Inland Resort, here last July 14-15, 2016.
The two-day event, with the theme: "Looking Back, Moving Forward", was attended by the Kalahi-CIDSS regional and sub-regional staff.
According to Regional Director Minda B. Brigoli, one of the objectives of the Mid-Year PREW is to take stock of the overall progress and success of the implementation and operation of the program in the region.
"The regional office is aware of the importance of having a performance review to keep our field workers updated to where we are at our implementation. This is to ensure efficiency in our work at hand," said Brigoli.
She added that the activity is also an avenue to discuss program timelines for the next cycle implementation.
"To maintain our exceptional performance from the 1st cycle, we need to evaluate our performance for the 1st semester and look at where we are with our cycle 2 implementation, " Brigoli added.
Lucy Herbolingo, Monitoring and Evaluation Officer for Database, presented the 1st semester regional accomplishment report which highlighted major achievements based on the key performance indicators.
The two Sub-Regional Program Management Offices comprising of 4 clusters, headed by Adelito Mendoza(Clusters 1 &2) and Maredith Julve (Clusters 3&4), showcased through video presentations their best practices and success stories in the field.
Regional Community Development Specialist Elsa Montemor facilitated the workshop on Trend Analysis process which will be vital in the continuance of the program implementation.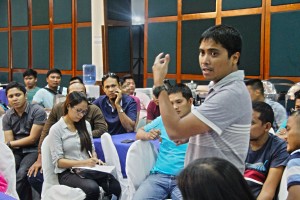 Engr. Jovenal Bernat, Regional Community Infrastructure Specialist, and John Voltaire Ancla, Regional Financial Analyst, provided feedback of the recently conducted National PREW, specifically to their respective units.
Assistant Regional Director for Operations/ Kalahi-CIDSS Regional Program Manager Mita G. Lim gave the 2nd semester regional directives and targets/deliverables. She asked the continued cooperation of the Area Coordinating Teams (ACTs) and sub-regional workers as well as their focus to get through the challenges for the rest of the year.
In her closing remarks, she also commended all Kalahi-CIDSS regional and sub-regional field workers.
"I would like to thank everyone for your efforts, dedication and commitment for us to achieve these accomplishments for this semester. Yes, we have our share of successes but we can never be too relaxed as we continue with our work. Again, the RPMO and the SRPMO will continue to monitor and mentor those in the field," Lim said.
Kalahi-CIDSS is a poverty alleviation program of DSWD along with the Pantawid Pamilyang Pilipino and Sustainable Livelihood programs. The program uses the Community-Driven Development (CDD) approach, a globally recognized strategy for empowering and engaging local communities in the implementation of sub-projects and promoting good governance to reduce poverty and achieve inclusive development.###(APRIL MAE N. WABAN & MARKO DAVEY D. REYES /Social Marketing Unit/DSWD Field Office Caraga)