SURIGAO DEL SUR- A series of turnover ceremonies of the Sustainable Livelihood Program (SLP)- PAyapa at MAsaganang PamayaNAn (PAMANA) project was conducted by the Department of Social Welfare and Development (DSWD) Caraga in the seven (7) barangays of the municipality of Hinatuan in this province last June 28-29, 2016.
The said ceremony was attended by Mr. Roy R. Serdeña- SLP Regional Program Coordinator and Mayor Candelario J. Viola Jr.
Seven (7) SLP associations from different barangays availed of financial assistance from SLP Regular and P300,000 each from PAMANA project. With the said funding, 40 traysikad or pedicabs, four (4) tractors and one (1) corn mill have been bought and a water refilling station has been put up.
Traysikad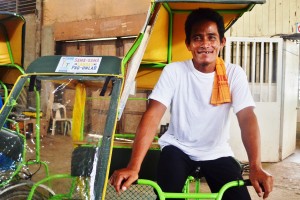 Forty (40) members of Pantawid Pamilya Hinatuan SLP Association fused their financial assistance to buy 40 traysikads or pedicabs as their source of livelihood.
Jonathan B. Cayacot, the association president, and members were grateful to the DSWD for the project they received.
"Dako kaayo mi ug pasalamat labi na sa among pinalanggang mayor ug sa head sa DSWD kay kung dili tungod kanila, dili kami makadawat ug maka avail aning traysikad (We are thankful especially to our beloved mayor and also to the head of the DSWD for without them this project will not be handed to us)," said Cayacot.
The members underwent a training on "Welding Pedicab Fabrication" before receiving the said project.
As for the maintenance needed for the pedicabs, the members decided to give monthly dues of P40 for the sustainability of their project.
Tractor
 Having rice production as their source of livelihood, the four (4) different associations coming from Barangay Tiwi, Roxas, Bitoon, and Sasa, all grantees of PAMANA project received 4 tractors.
"Akong dakong pasalamat gikan sa National ug Local government organizations, sa PAMANA-SLP na nihatag gyud sa amoang barangay labi na sa among mga mag-uuma ug labi na pud sa mga facilitator sa barangay na nitabang sa pagasikaso sa among mga papeles (My big thanks to the national down to the local government organizations, to the PAMANA-SLP who gave this project to our barangay especially to us farmers and to our barangay facilitators who helped us on processing our papers), " said Boniface D. Caῆal, Association President of Tiwi Farmers and Fisherfolks Association.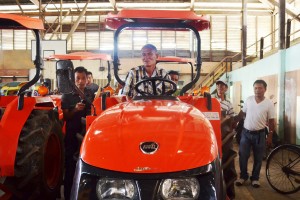 "Makagenerate gyud mi ug income kay kung naay magpakarga gamit ang tractor, magpabayad man pud mi, so makaincome gyud ang mga miyembero (We can generate income especially if there are non-members who want to use the tractor by having it rented, so we can generate more income for the members), " he added.
Furthermore, the group also initiated to give a monthly due of P10 each member for the maintenance and repair of their tractors.
For additional income, the group agreed to engage in opening up a public market.
Water Refilling Station
 The people of Barangay Dugmanon can now enjoy the finest quality purified drinking water, clean and safe to drink with their newly opened Water Refilling Station through the PAMANA project agreed by sixty (60) members of Del Carmen Farmers Association headed by Cecilio P. Serna, association president.
The project aims to provide sustainable livelihood to all members of the association in barangay Dugmanon and at the same time, create a service-based water refilling station that offers a cheaper and more convenient solution to the public's drinking water on the use of household filters.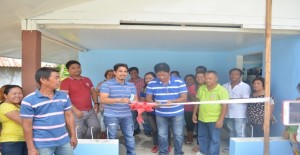 "Nalipay kami ug ampingan gyud namo ni nga proyekto ug paningkamotan gyud namo nga dili gyud kini mubagsak (We were happy with the project and we will take good care of it as well as work hard so that this project will not be a failure. My heartfelt gratitude to the PAMANA-SLP project for giving this grant)," Serna said.
The group are also grateful to their Barangay Local Government Unit (BLGU) for providing an area for the station.
Corn Mill
 Blessed with an area suitable for corn plantation, Talisay Fisherfolks Association, composed of more than a hundred (100+) members, are now enjoying their newly-built up corn mill.
"Mapasalamaton gyud mi ug dako nga inani nga gitagaan mi diri ug project kay ngadto-ngadto mudugang among kita or income labi na sa kalisud karon sa mga lumulupyo ani nga barangay (We are thankful for we are given this project because this can give us more income to the residents of our barangay), " said Lino D. Martinez, vice-president of the association.
But the use of this facility and equipment is also open to non-members of the association thereby they can generate more income from its rental. A monthly due of P5 was also agreed by the association to be given for the sustainability of the equipment.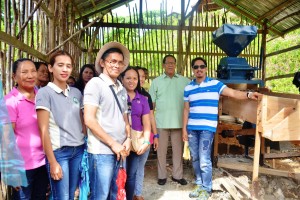 "Di man gyud mawa ng mga weaknesses sa usa ka grupo pero nanghinaot ko isip usa ka vice-president, nga kining project manggihulatayon jud ug dili lang ingon sa pagka karon but hangtod sa ubang generation nga mupadayon jud (Weakness are part of a group but as the vice-president, I hope that this project will continue, not just now but until the next generation) , " he added.
PAMANA is the national government's convergence program that extends development interventions to isolated, hard-to-reach and conflict-affected communities, ensuring that they are not left behind. It has a number national line agencies as implementing partners and one of those is the DSWD.###(SLP/Social Marketing Unit/DSWD Field Office Caraga)
Written by Jannel T. Murillo, Development Communication Intern from Mindanao State University