Each one of us wants to know our life's calling.  Most people could not yet tell what keeps them going and inspires them into action in their life.
For 40 year old Sanny Catacte, resident of Barangay La Paz, Bayabas, Surigao del Sur, being able to help other people is a way of life. She has always been involved in community service, being the vice president of their purok and Parent-Teacher Association (PTA) general treasurer in her children's school.
Their greatest worry
Since Barangay La Paz is a coastal community, one of their biggest threats includes natural occurrences such as storms and heavy rains which usually result to flooding in many areas of the barangay.
"Kadtong wala pay protection dike, nakita ko gayud na ang mga tao mag sige ug baba sa ilang mga butang kay mag bakwet pag magbaha sa ila. (When the protection dike was not yet built, I have witnessed how people would carry their belongings to evacuate when it floods in their area.)," Sanny shares.
This was one of the reasons why she volunteered in the PAyapa at MAsaganang PamayaNAn (PAMANA) project implemented under the Kapit Bisig Laban sa Kahirapan-Comprehensive and Integrated Delivery of Social Services (Kalahi-CIDSS). This is one of the core poverty alleviation programs of the Department of Social Welfare and Development (DSWD) that helps empower and enable communities to undertake their own development projects through identifying their area's most pressing needs and managing sub-project implementation.
PAMANA is also the national government's program and framework for peace that aims to extend development interventions to isolated, conflict-affected and vulnerable areas across the country.
Before Kalahi-CIDSS PAMANA
For Sanny, one of the barriers to their progress, aside from the problems that have been mentioned, was the community's participation.
In the past years, the people of La Paz have experienced poor project implementation which led them to mistrust the government. Sanny opens about their community's situation before PAMANA.
"Ang mga tao dili na magtuo na matuman ang proyekto tungod sa corruption sauna. Mao gayud ang nakachallenge kay sauna maglisud gayud ug convince sa mga tawo na mu attend (sa assembly). Sauna mag bandilyo na naay meeting maglisud mi ug abot ug 50% (The people here no longer believed that the project would be realized because of corruption. Our greatest challenge before was convincing residents of the barangay to attend the assembly. Before, when we call for meetings it was hard to reach 50%)," Sanny recalls.
Involvement leads to motivation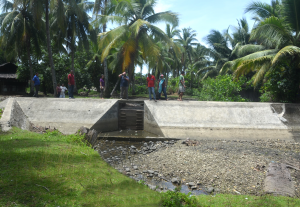 Then, the Kalahi-CIDSS PAMANA 1st cycle in 2014 came.  Because the community was given the power to identify and address their own problems, residents were motivated to be involved in the project implementation.
"Sa pagsugod na ug implement sa PAMANA, makit-an jud nimo nga 100% (na ang attendance). Lahi sa PAMANA ang ilang nakit-an, kay ang tibuok komunidad gayud ang maglihok ug tanan involved. (At the start of the implementation of PAMANA, the residents' attendance in the barangay assembly became 100%. It's different in PAMANA because they can see that the whole community is involved.)," Sanny says.
Amung gayud ganahan sa PAMANA kay every single centavo dili gayud ma usik (What we like most about PAMANA is that no single centavo is wasted)," she adds.
Finding purpose
With Sanny's active involvement in community activities, she was elected the Barangay Sub-Project Management Committee (BSPMC) chairperson. With the position, her responsibilities include monitoring and ensuring the sub-project's implementation and completion. Being the BSPMC chairperson was not easy but she accepted the challenge. Sanny was convinced that the program will bring about positive change in the community and will benefit a lot of people.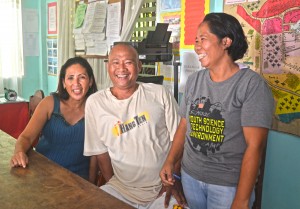 "Dapat willing ka na ihatag imung panahon ug effort kay pagka volunteer sa PAMANA dili gayud sayon. Kay usahay mag seminar kami one-week, biyaan namo among panimalay pero dili nako siya huna hunaon na lisud kundili akong gahuna hunaon na ang project mahuman na makabenefits gayud ang tanan (You should be willing to give your time and effort because being a volunteer of PAMANA is not easy. There will be times that you'll have to leave your homes to attend a one-week seminar. I know it's difficult but I don't dwell on that thought. What's more important is that the project will be completed and everyone will be able to benefit from it)," Sanny says.
With Sanny's leadership and support of the BLGU and the MLGU, La Paz has now a 15 linear meter protection dike with flood control wooden gate which now serves as control to seepage of water. The flood control wooden gate is closed during high tides to bolster near-term defenses against rising sea levels and opened during low tides to allow the water to drain out toward the ocean.
With this, Sanny has found her life's calling and sees it as her personal mission.
"Basta malipay gayud ako na makatabang ako ug makaapil sa lihokon na daghan ang makabenefit labi na gayud ang mga kabos nato nga ka-igsuonan (I am just happy to be able to help other people and to participate in worthwhile activities in which many people will benefit especially the less fortunate)," Sanny concludes.
###(APRIL MAE N. WABAN & MARKO DAVEY D. REYES /Social Marketing Unit/DSWD Field Office Caraga)