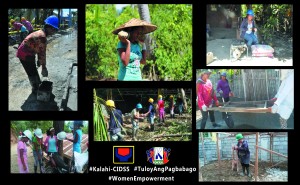 Women play vital roles in nation building. The Kapit-Bisig Laban sa Kahirapan – Comprehensive and Integrated Delivery of Social Services (Kalahi-CIDSS) believes that to achieve growth and development, there should be inclusion of all sectors of the society – no one should be left out.
Because of this, the program has ensured that from decision making, up until the implementation of community sub-projects, men and women, young and old alike, should be given the opportunity to actively participate in the project implementation.
In 2014 – 2015 alone, during the Kalahi-CIDSS National Community-Driven Development Program modality pilot implementation, the program was able to include 5,005 female workers as paid laborers for the various community sub-projects, with a total of Php10,427,334.56 funds allotted for salary. Women worked toe –to – toe with men, paid equally, and performed at par with their male counterpart.