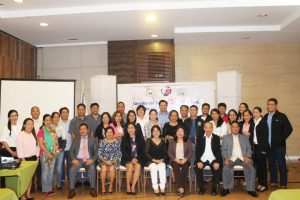 Caraga- With the objective to ensure common knowledge and understanding on the guidelines along adoption of children, the Department of Social Welfare and Development (DSWD)-Caraga conducted a consultation dialogue with the Regional Trial Court (RTC) judges, clerks of court, and prosecutors in the region held at Gateway Hotel, Surigao City on August 19, 2016.
RTC judges present were Hon.Eduardo S. Casals (Br.1, Butuan City), Hon. Emmanuel E. Escatron (Cabadbaran City), Hon.Kimal M. Salacop (Prosperidad, Agusan del Sur), Hon. Rufo U. Naragas (Tandag City), Hon. Merlyn Pacaro-Canedo (Bislig City), and Catalina Sineta Tare-Palacio (Cantilan, Surigao del Sur).
Thirteen (13) clerks of court and six (6) provincial prosecutors also attended the dialogue.
The one-day activity focused on attaining the appreciation of participants regarding the issued Memorandum 7 series of 2015 by DSWD which clarifies the matter on the Adoption process. Furthermore, it is aimed that the mentioned professionals will understand the importance of the administrative procedure stipulated under RA 9523 Declaring a Child Legally Available for Adoption as a pre-requisite for the adoption of non-relative or outside the 4th degree relationship.
Assistant Director Rosalie Dagulo of Protective Services Bureau, Atty.Melissa De Villa Gorospe of Legal Bureau, and Social Welfare Officer III Maricel Bringas were the invited resource persons from DSWD Central Office to discuss on the provisions of the laws along adoption like the RA 9523 and RA 8552 (Domestic Adoption Act).
The said experts emphasized on the new concepts, processes, or provisions of the mentioned laws.
Regional Director Minda B. Brigoli, who personally graced the occasion, expressed her gratitude for the presence of the participants. According to her, it was the first time that the Department has conducted the activity with the attendees to thresh out issues and concerns related to the adoption already filed and will still be filed in Courts.
"I would like to extend my gratitude to our Honorable Judges for heeding our call. Their presence indicates that we are one in protecting our children and ensuring their welfare." she said.
Brigoli also presented the various advocacy activities on Legal Adoption conducted by DSWD-Caraga together with its partners in raising awareness of the communities.
Accounting on the adoption cases in the region, as of today, there are 97 children who are subject for adoption which are reported to the regional Office. This number comprises the cases handled by DSWD's community-based social workers and the local government unit (LGU) social workers. Eighty-five (85) of the adoption cases are handled by the Social Welfare and Development (SWAD) team leaders assigned in the five (5) provinces of the region and only 12 cases coming from LGUs. ###(Social Marketing Unit/DSWD Field Office Caraga)