Butuan City- To strengthen the campaign against Human Trafficking, the Department of Social Welfare and Development (DSWD)-Caraga through the Recovery and Reintegration Program for Trafficked Persons (RRPTP) conducted activities related to World Day Against Trafficking (WDAT) on July 29, 2016.
The activities focused on the theme "Ituloy and Laban Kontra Human Trafficking" which were participated by the members of Regional Inter-Agency Council Against Trafficking-Violence Against Women and their Children (RIACAT-VAWC).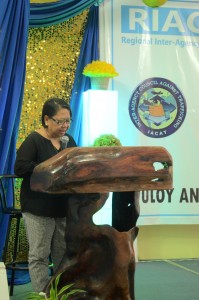 With the said observance, RIACAT-VAWC aims to provide platform for exchange of information, experiences, and good practices on anti-trafficking action of the partner agencies, and to tighten their partnership.
Among the attendees are representatives from Department of Justice (DOJ), Department of Education (DepEd), Department of Interior and Local Government (DILG), Philippine National Police-Police Regional Office (PNP-PRO) 13, Local Government Units (LGUs), Justice, Peace and Integrity Creation-Integrated Development Center, Inc. (JPIC-IDC), and others.
The activity kicked-off with thanksgiving mass, followed by motorcade, and the program proper started at 10 o'clock at Luciana Convention, here which highlighted the Oratorical and On-the-Spot Poster Making Contest participated from high school students from the different Schools in the region.
In her welcome remarks, Assistant Regional Director for Operation Mita Chuchi Lim, elaborated the theme for this year and challenged the RIACAT-VAWC members to continue fighting against Human Trafficking.
"The theme of the celebration, "Ituloy ang Laban Kontra Human Trafficking", is a continuing challenge for us to continue our efforts in curbing this dilemma," said Lim.
"For the RIACAT-VAWC members, LGU, and other partners, the theme dares us to continue and do more to achieve efficient and effective services to the survivors of trafficking," she added.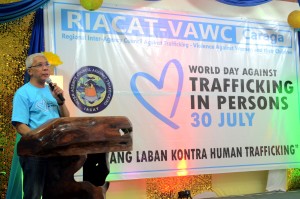 While Prosecutor Clementino Rabor, head of Regional Anti-Trafficking Task Force (RATTF) expounded the importance of partnership between agencies in fighting against Human Trafficking that exploits vulnerable sectors such as children, women, and men.
"The partnership between the government and other stakeholders is essential in fighting against perpetrators and help victims from human trafficking. Let us continue and intensify more our campaigns against human traffickers," said Rabor.
For the Oratorical Contest, Jessamie Besas from General Luna, Surigao del Norte won the 1st price, while Coreen Austria from Cabadbaran City and Maria Mae Magbanua from Calaitan, Bayugan City won the 2nd and 3rd price respectively.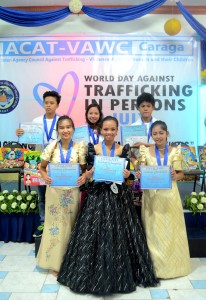 On the other hand, Cybelle Bugas from Cabadbaran City got the 1st place for the On-the-Spot Poster Making Contest, while Jhanhel Galle from Gigaquit, Surigao del Norte and Cristian Pol Abendan from Surigao City got the 2nd and 3rd place respectively.
The DSWD is the chairperson of RIACAT-VAWC and it aims to intensify the campaign through the conduct of series activities promoting the campaign.
With the effort of the Philippine government, finally, the country's human trafficking hard work has been given top recognition with the US State Department with the highest ranking of Tier 1. This means that the Philippine government fully complies with the minimum standards for the elimination of severe forms of trafficking as provided by the 2000 Trafficking Victims Protection Act (TVPA). ###(ABEGAIL R. ALVAREZ/Social Marketing Unit/DSWD Field Office Caraga)