The empowerment of one leads to the empowerment of the entire community.
This is the story of the 80 members of Talacogon-Sustainable Livelihood Program (SLP) Association Federation who are also Pantawid Pamilyang Pilipino Program partner-beneficiaries. Determined and eager to generate income, the group agreed to put up a Catering Services and Carenderia business (Talacogon-SLp Eatery) located at Talacogon Bus Terminal.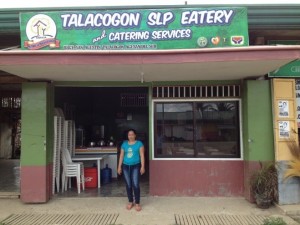 In partnership with the Department of Trade and Industry (DTI), skills training on Good Manufacturing Practices was conducted. Members of the association also participated trainings on Frontline Customer Care Service and Simple Bookkeeping which were conducted by SLP. With these, the group was able to operate their business effectively and efficiently. The Municipal Local Government Unit (MLGU) showed support through provision of venue for the said activity.
"Tungod sa mga training na amo naapilan, kabalo name unsaon pag asikaso sa among carenderia ug sa customer care service na nakakat-on mi unsaon ang maayong serbisyo sa among mga customer (Because of the trainings that we've attended, we know how to run our carenderia business and also how to entertain our customers)," shared Neda F. Madiano, the federation's president.
The federation accepts catering services in all occasions and even provides services to the different Local Government Units (LGUs) such Department of Agriculture (DA), Department of Interior and Local Government (DILG), and others.
Furthermore, the program also provided sustainable livelihood not just for thee federation president but also for the members of the association whenever they have catering services. For instance, a catering service of three consecutive days provided an income of Php600 to them and an honorarium is given to those who have been part of the catering such as cook, assistant cook, and servers.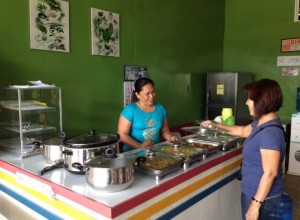 "Nakatabang man gyud sya kay kung magserve mi kibali naa mi cateran, naa man mi honorarium of P200 per day and so kung magsuccessissive mi ug three (3) days so naa mi P600, so nakatabang gyud sya kay pandugang sa pamaliton sulod sa panimalay. Asa pa man ug kinsa pa may muhatag ug dili ka wala na sya, wala may muhatag sa imo ug P200", (It is really a big help for us especially at times when we have a catering service, we have a honorarium of P200 per day and for 3 consecutive days, we have P600, so it really help us in buying our needs at home. Who would give us such amount and where can we earn it, aside from the program, no one will give you P200) shared Neda F. Madiano, the federation's president.
The federation is also planning to expand their business through putting up a general merchandise and buying a suitable place that will serve as their venue and preparation area for their catering service and function hall for rent.
"Ang SLP naka challenge and nakapadasig sa ako nga maningkamut gyud. Ug sa karon sa among grupo, naay mga panahon nga maningkamot mi nga magplano ug amoa nga makahimo mi ug amo pong plano, bale amo itampo-tampo among kahibalo so makabuo mi ug desisyon dayon magpatabang ra pud mi sa among mga PDOs kug sakto ba among mga nasabutan (SLP has challenged and encouraged us to strive hard. Today, in our group, there are times that we initiate our own plans and ideas from each member until we come up with a decision of our own plans and ideas from each member until we come up with a decision of our own and ask for the supervision of our PDOs)," Neda added.
"Dili ta magpabilin sa atong huna-huna na gusto lang ta permanente tabangan sa atong gobyerno kung dili and tabang sa gobyerno na niabot sa atoa paningkamotan nato ug ato pong abagan ug paningkamot aron kita makabarog na. So, mao na akong pangandoy nga mahitabo usab sa akong mga kaubanan nga mga Pantawid Pamilya beneficiaries (We should not always depend on the help of the government but we must also exert full efforts and strive hard until we can stand on our own. This is my dream and for my co-beneficiaries)," she concluded. ###( JANNEL MURILLO and MARY CARMELLE JUMAWAN/SLP/Social Marketing Unit/DSWD Field Office Caraga)