Water does about a lot of things. It has effect on just about everything. It quenches thirst. It dissolves a lot of things, and cleanses dirt. But water extinguishing conflict? Well, that is something new.
Sharing is a common trait of Filipinos. When there is abundance, it is very easy to share. But with scarcity, conflicts bound to arise. This is very true especially when dealing with meager resources – basic commodities people need.
Barangay Magupange in the municipality of Placer, Surigao del Norte, has been enjoying water services for quite some time already. Located distant from the Poblacion, the residents considered themselves blessed to have had a decent water system. It served two (2) puroks (household clusters) well, until the management and maintenance of the water system went south.
Old pipes started leaking and pipe connections were disconnected. This caused decreased water supply to the tap stands and households. There were instances when someone from one purok adjusts the water flow of the pipes to the other purok, diverting water just for their area. This act caused conflict between the residents.
People began fighting. Domingo B. Jamer, Barangay Chairman of Magupange started to receive many reports of fights between residents in his barangay.
"Daghan nagaway nga mga residente kay duna may uban nga gusto makalamang sa taga pikas nga purok. Daghan na magilog ug sag-ob sa mga gripo duol sa tanke nga maoy source sa tubig (There were constant fights among residents because there were some who tried cheating the other purok just to have better water flow. There were a handful who quarreled over who gets to go first in fetching water from the faucet nearest the water source)," Jamer said.
The problem went on for months. The conflict brought the residents apart. What was once a tightly-knitted community, is now divided.
Kalahi-CIDSS to the rescue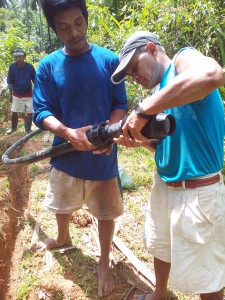 The residents tried to look for ways to solve their problem, but to no avail. There was not enough funds from the Barangay and Municipal Local Government to address their situation most specially that the repair of their water system needed a large amount.
When the Kapit-Bisig Laban sa Kahirapan – Comprehensive and Integrated Delivery of Social Services (Kalahi-CIDSS), an anti-poverty program of the Department of Social Welfare and Development (DSWD) started in Placer, no one really thought it would be the solution to their problem.
Kalahi-CIDSS utilizes the Community-Driven Development approach, where the community gets to identify the project that will address their needs for funding and implementation. At first, no one really gave so much attention to the program. Nemia M. Lopiga, one of the residents of the said barangay said that no one really gave much attention when they first heard of the program.
"Kadtong nag 1st Barangay Assembly na mi, ug gisultihan mi nga pwede mahimong solusyon ang programa sa among mga problema, didto na mi naghuna-huna nga pwede diay ni mahimong solusyon sa among water system nga problema (We did not feel it was a good program not until we had the first barangay assembly, when we were told that the program would address the problems we had in our barangay. It was only then that we realized that this could solve our water system problem), she said.
Nemia saw the opportunity to help in resolving their problem. She never hesitated when volunteers were needed to kick-start the project implementation. She was chosen as Bids and Awards Committee chairperson – something new to her, but she readily accepted because volunteers will be trained to do their part in the implementation.
United by pipelines and faucets
Through the Participatory Situational Analysis (PSA) of Kalahi-CIDSS, the community is given a chance to voice their needs and decide on how to solve their identified problems. During the said activity, residents of Maupange agreed that their priority need was a reliable water system. They were all convinced that the repair of their water system would be great for their community.
Their 1,500 linear-meters water system (Rehabilitation/Improvement) community sub-project proposal was approved. People who were once hostile are now eager to work together to complete their sub-project.
"Sobra akong kalipay kay ang duha ka purok nga nagsige ug away sa una tungod sa tubig, karon nagkahiusa na para trabahuon ang rehab sa mga tubo ug sa water source. Bilib ko sa sistema sa Kalahi-CIDSS kay nahupay among problema (I was so ecstatic because puroks who were once quarrelling over their water system are now working together in working for the rehabilitation of their water pipes and source. I am astonished with the system of Kalahi-CIDSS because it was able to resolve our problem)," Jamer said.
Indeed, the implementation of their sub-project brought them closer. Who would have thought that something that has caused division among them would bring the community together again? Everyone showed a positive attitude in working for the repair. Barangay officials and volunteers alike shared their time and effort to complete the repair job.
"Dali ra namo nahuman ang among proyekto kay todo ang pagtrabaho sa mga volunteers ug mga opisyales sa barangay. Lahi ra gyud ug ang inyong gitrabaho gidahum sa tanan – gikinahanglan sa tanan (We finished the project earlier than expected because everyone cooperated – volunteers and barangay officials alike. It is really different when what you are working on is what everyone dreams of and needs," Nemia said.
Problem solved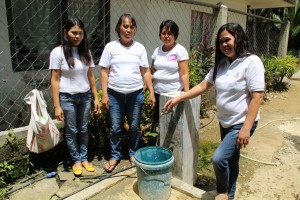 In just a few weeks, they were able to complete their repairs. There were also additional eight (8) tap stands strategically positioned in clustered homes to serve the households. It was a success everyone in Magupange celebrated about. No more fighting between neighbors, no more long queues just to get water.
Part of the completion was coming up with an effective operation and maintenance plan to keep the water system working. Volunteers and barangay officials gave their commitment to take care of their project since they no longer want to go through their ordeals when their water system was damaged.
Kalahi-CIDSS may have provided the people of Magupange an opportunity, but it was the unity and hard work of the residents that made it possible to complete their water system repair project.