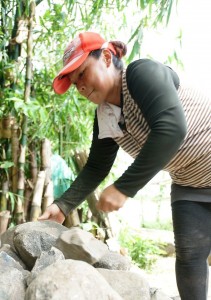 Edna B. Balagulan believes that her simple sacrifice of labor will ensure her children's welfare. Her closed-knit community in Barangay Del Rosario,Tubod, Surigao del Norte has been blessed with basic services –such as their local public elementary school. However, parents are still calling for their local government to address the problem of the flowing river parallel to the school fence at the back of the school campus. With the emergence of climate change and the unpredictable seasonal patterns, Edna is one of the first to call for action to have peace of mind during school days – even during the rainy season.
During the Kapit-Bisig Laban sa Kahirapan- Comprehensive and Integrated Delivery of Social Services (Kalahi-CIDSS) 2nd cycle implementation, the community, with a resounding voice, voted for a sub-project to put their worries aside. They proposed for the construction of a 105 linear meters Riverbank Protection (Flood Control) sub-project which will cover the area behind their public elementary school. She actively participated in their community activities for the program implementation – even landing as a woman paid laborer for the construction of their sub-project.
"Dako kaayo ug tabang ang proyekto namo. Masiguro na ang safety sa among mga anak, naka-income pa mi sa among pagpanarbaho (The project has really helped us dearly. We can now ensure the safety of our children, and at the same time, help us earn a living through the employment opportunity)," Edna said.