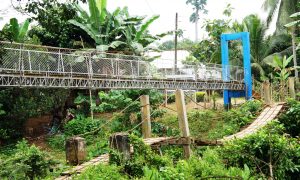 A simple wooden hanging bridge used to do the job before for the residents of Bacay II, Veruela, Agusan del Sur. But the wear and tear has minimized the functionality of their long standing hanging bridge.
Residences on one side, farm lots on the other side, with the unsuitable condition of their bridge, residents are having a difficult time transporting their products. Add to that the rising level of their river due to climate change.  The community really faced a big problem.
But the community's fate had a turn around. They were able to secure funds for a new hanging bridge – one that would be sturdier and could better serve the needs of the community. Through Kapit-Bisig Laban sa Kahirapan- Comprehensive and Integrated Delivery of Social Services (Kalahi-CIDSS), they were able to construct a 48 linear-meter hanging bridge worth Php1,130,341.00. This time, it was made up of durable wooden planks, chicken wires for fencing, metal bars/poles, a cemented base, and cable wires. Now, they will be able to traverse the hanging bridge with ease, without threats of falling from the side, or fear crossing the bridge, especially when water levels are high.