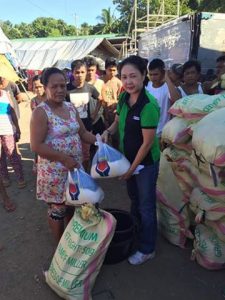 Caraga- After a year of staying in the evacuation camps in Surigao del Sur, the lumad Internally-Displaced Persons (IDPs) finally decided to return to their respective communities in the said province.
As part of the Department of Social Welfare and Development (DSWD)-Caraga's commitment to ensure the welfare of the evacuees and  humanitarian assistance for them, the agency's staff distributed yesterday, September 1, 2016, at Provincial Sports Center, Tandag City a total of 940 family food packs amounting to Php385,700.80 (each food pack amounts to Php410.32) to the lumads.
Together with the provincial local government unit (LGU) team, the relief distribution was led by DSWD-Caraga's Chief of Protective Services Unit (PSU) Chief, Angelita B. Amista.
Other assistance provided were Php2,579,560-worth non-food items such as plastic mats, blanket, mosquito net, tooth brushes, slippers, toothpaste, laundry soap, underwear, plates, glasses, soup bowl, mugs, kettles, forks, spoons, sanitary napkin, basin, etc.
Also, the Disaster Risk Reduction and Response Operations Unit (DRRROU) of DSWD-Caraga accompanied September 2-3, 2016  the evacuees returning to their homes in KM 9 and KM 16 Brgy. Diatagon, Lianga, Surigao del Sur. They were transported by the PLGU.
DSWD-Caraga will also provide Emergency Shelter Assistance (ESA) as necessary for the repair of houses that are left unattended and those that were burned down.
Other than the ESA, there will also be Cash/Food-for-Work assistance thru the Sustainable Livelihood Program's Cash for Building Livelihood Assets (CBLA) for a maximum of 11 days per person while working or cultivating their agricultural land or any preparatory work for the livelihood endeavor most suitable to the IDPs concerned.
As to date, DSWD-Caraga already provided a total of P5.8 million-worth of assistance to the said evacuees. These are in the form of food, non-food, burial, educational, transportation, medical, psycho-social processing, and child/women-friendly spaces.
Regional Director Minda B. Brigoli said that DSWD will continue to extend compassion and assistance to these IDPs.
"The DSWD as government's lead welfare agency, will do its part by providing what it can within its means and mandates to help the lumads in Caraga who are facing crisis like our lumad brothers and sisters in Surigao del Sur," said Brigoli. ###(Social Marketing Unit/DSWD Field Office Caraga)