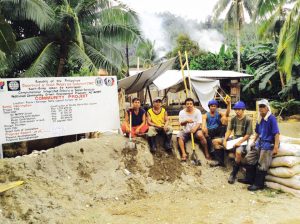 Community volunteers and paid laborers of Barangay Mat-e, Cagwait, Surigao del Sur, take a break during construction of their double barrel box culvert. The sub-project amounting to Php1,024,654 is funded through the Kapit-Bisig Laban sa Kahirapan-Comprehensive and Integrated Delivery of Social Services (Kalahi-CIDSS) program.
Over the years, flood problems have always been one of the major concerns for the residents, especially those whose houses are located along the stream. When Typhoon Seniang struck the country in 2014, the municipality of Cagwait was greatly affected. The storm produced heavy rains which brought flooding in the area causing damage to properties. This prompted the community of barangay Mat-e to propose the sub-project as solution to their problem. When completed, the bridge-like box culvert will allow the water from the stream to flow under the road to mitigate flood risks for residents in the area during heavy rains and storms. It will also link one purok to another, hence, giving and providing safe and easy passage for people.
Kalahi-CIDSS is one of the poverty alleviation programs of the national government being implemented under the Department of Social Welfare and Development (DSWD). It uses the Community Driven Development (CDD) strategy to empower communities to undertake their own development interventions to address local poverty issues.