For decades, there has been quite a number of definitions – explanations to what growth and development is. There are also a handful of theories on how to achieve sustainable growth and development. But trying to learn more about growth and development, one thing is certain; that this could only be achieved inclusively, putting into consideration the welfare of different stakeholders, different groups, that have a big impact whether their well-being are encompassed, or undermined.
In the Philippines setting, there has been great consideration being given to sectors who belong to the minority, the poor and marginalized, and those who have been discriminated – segregated. Women, Persons With Disability, children/youth, Indigenous Peoples/Groups – there has been a more deliberate and conscious act of addressing issues and concerns related to these sectors/groups.
But advocates could only do so much. There must be a wider understanding that considering the needs of different sectors and groups is the only way to propel the community forward, and gain growth and development.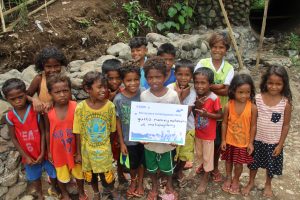 Mixed communities such as that of Brgy. Canaway, Kitcharao, Agusan del Norte has had the experience of having the dilemma of inclusivity in addressing the community's needs. The barangay, which is a mix of Bisayas and Manobos, has always been divided because of their cultural and traditional differences, which has an impact on how they prioritize their needs and problems.
Filipa Anlagan, one of the residents of Purok 5, Canaway shared their experience of being left out with projects in their barangay.
"Pirmi lang mi mauwahi sa mga proyekto. Mauna pirmi ang uban nga mga purok kay maningog man sila ug moinsister nga sa ila buhaton ang mga proyekto. Kami nga mga taga Singko, mauwaw man kay mga nitibo baya kasagaran sa namuyo dinhi (We always get to be least priority when it comes to projects. Other puroks get to have the projects because they are more vocal and insistent to having the projects. While we in Purok 5, we are very reluctant, we consider ourselves inferior, because majority of us are indigenous/native people)," Filipa said.
Purok 5 is the farthest purok of Canaway. 90% of the households are of Manobo descent. Filipa said that she and the rest of her community could hardly insist or demand for anything, especially from their barangay local government unit. It is not just how things work for Manobo people. She said that they would just humbly wait for people to consider them for anything.
"Wala mi naanad nga kami ang mangayo. Maghulat raman mi unsay para sa amoa (We are not used to asking or begging for something. We were raised to just wait for what is for us)," she said.
Safety of the family is top priority
Purok 5 residents used to live all around the barangay and some even lived in other barangays. But because they are not comfortable living amongst households outside their group, they requested the municipal local government and the barangay local government that they be relocated somewhere, where they can live amongst their peers. Sure enough, they were relocated to what is now their current location – Purok 5.
The transition was smooth. They are now more comfortable with their neighbors, who are also Manobos. But years after their transfer, a serious matter would post a problem to the community. The change in weather disturbances and patterns revealed something to them.
Part of their community is lying on a dead creek which gets flooded when the downpour of rain is very heavy. A number of houses lie on an area where flash floods traverse going to the main river a few meters from Purok 5.
Nica Bago, a mother of two (2) said that flooding would only happen in their area when rains would pour for days. But recently, even a few hours of heavy downpour would bring flashfloods to the vicinity.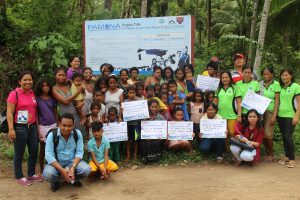 "Nahadlok na mi kay anaa raba mi mga bata. Dali na gyud siya magbaha dinhi sa amo. Mao nga nangita mi ug paagi nga masulbad among problema. Prayoridad namo nga walay mahitabo sa among pamilya, labi na sa among mga anak (We were alarmed of what was happening, especially that we have little children. Flooding was much common now. We looked for ways to solve our problems because the safety of our family is top priority, especially the safety of our children)," Nica said.
Equal footing in the community 
With the recurrence of flash floods in their community, residents of Purok 5 brought the matter to the attention of their barangay chairman. Alfonso Corminal, Jr. Corminal told them that a barangay assembly was set for the orientation of Kalahi-CIDSS PAMANA, and it would be a good venue to discuss the matter.
Sure enough, they went and attended the assembly. They were astonished of how things work for the program – they can decide on what community project to fund. This was a development for them.
"Dako among kalipay niadtong nakadungog mi sa maayong balita. Pwede na kami makapahimo ug dike sa among suba aron dili na mo-apaw sa among mga balay. Apan kana ug mosugot ang ubang purok kay aduna pud sila'y lain nga gikinahanglan (We were very glad of the good news. We can now build a river dike so that water will not reach our homes. But that is if the other puroks would agree because they also have their own needs to address)," Nica said.
Members of Purok 5 began convincing residents of the other puroks to consider their need. They went as far as talking to purok leaders about their problem. It was a big relief during the Participatory Situational Analysis (PSA) activity, their problem became top priority. The rest of the barangay saw their needs, and ended up backing their plea for a solution to their problem.
"Dili ako makatuo nga nagkahiusa ang among barangay nga hatagan ug pabor ang Purok 5. Nakita man gud sa taga uban purok nga nanginahanglan gayud sila sa river protection. Dili pud lisod sa mga Bisaya nga mosuporta kay kaning mga igsuon namo nga Manobo supportive pud ni sila sa uban kalihukan sa barangay (I could not believe that the barangay would come together and agree to favor Purok 5 with their needs. The other puroks saw the importance of the riverbank protection. And it was not that hard for the Bisaya to support the needs of our Manobo brothers and sisters since they are very active in helping out in the endeavors of the barangay)," Chairman Corminal said.
A dream come true
The community proposed a 56 linear meters riverbank protection sub-project. In just a few weeks, the sub-project was completed as volunteers from different puroks flocked the site to work on the sub-project.
"Dili mi makatuo nga mosugot ang taga uban purok sa among hangyo. Sila pa ang naguna sa pagboluntaryo nga motabang himo sa among dike. Sa Kalahi-CIDSS PAMANA lang namo ni nahitabo. Karon, mas mayo na among relasyon sa uban purok (We could not believe that the other puroks would give in to our request. They have even volunteered in working for our dike. It is only through Kalahi-CIDSS PAMANA that this happened. Now, we have developed a closer relationship with the other puroks), Nica said.
The experience of the people of Purok 5, Canaway, Kitcharao is just among the many stories of empowerment through the different modalities of Kalahi-CIDSS. The program highlights the importance of communities making decisions for themselves. This opportunities have since opened doors for communities to develop, strengthening ties between the people in the communities.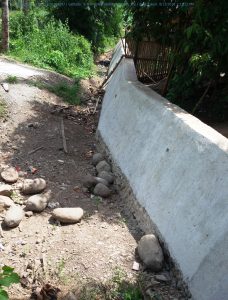 The success achieved by the people of Canaway is not necessarily the riverbank protection sub-project. It is their humanity that is worthy of sharing. Considering the needs of their Manobo brothers and sisters has propelled their community among those considered progressive and developed.