BUTUAN CITY –In line with the conduct of the National Simultaneous Earthquake Drill this year, employees of the Department of Social Welfare and Development (DSWD)-Caraga accepted the #Pagyanig Challenge which involved simulation of the Earthquake Drill.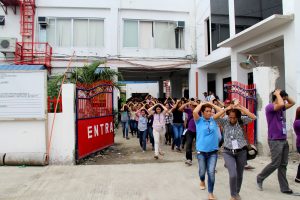 This simulation will test how the Field Office will respond to a large quake and will prepare the staff for possible occurrence of the said disaster.
Representatives from the Bureau of Fire Protection (BFP), led by SFO1 Rogelio B. Gonzales Jr, conducted the Earthquake and even included the Fire Drill on October 11, 2016 at DSWD-Field Office and was participated by the regional office-based personnel.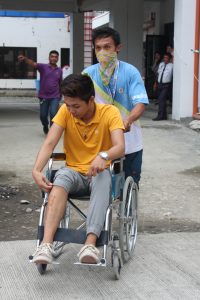 Prior the execution, BFP through SF01 Gonzales and SF02 Deborah C. Llanos conducted the lecture about the earthquake and fire incident on September 27, 2016 held at Conference Hall.
During the earthquake drill proper, the fire truck activated the siren and alarm which signals the employees to exit the vicinity while executing the duck, cover, and hold technique. For the fire exit drill, the fire truck alarmed and some of the employees used the emergency exit.
"Let us practice the duck, cover and hold techniques because it is still the basic thing to do when an earthquake strikes whether you are at home, school, work or any high-rise or other type of building," said SF01 Gonzales.
The #Pagyanig Challenge is a campaign of the Office of Civil Defense (OCD)to raise awareness and equip employees of the national and local government offices on things to do during disaster scenarios.###(ABEGAIL R. ALVAREZ/Social Marketing Unit/DSWD Field Office Caraga)