BUTUAN CITY – The first-ever Kapit-Bisig Laban sa Kahirapan Comprehensive and Integrated Delivery of Social Services (Kalahi-CIDSS) Kapayapaan at Musika Song Writing Competition has come to a successful conclusion with the finalists' heartfelt live performances during the Grand Finals held at the Department of Social Welfare and Development (DSWD) Caraga-Conference Hall here last October 10, 2016.
The live performances were witnessed by the regional office-based staff of DSWD during their regular Monday Convocation on the mentioned date.
Out of 17 song entries submitted from different regions of the country since the contest was announced last June 2016, six finalists moved on to the Grand Finals and competed for the title. Twenty-eight year old Gospelaire Abarquez, a singer/ songwriter hailing from Lapu-Lapu, Butuan City, emerged as Grand Winner of the competition.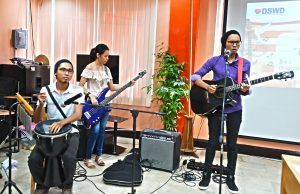 Abarquez beat equally talented finalists, Anthony Estacion, Jason Montilla, Christian Montanez, Jayson Casilac and Vanjudel Gador in taking home the title and grand prize of Php35,000. He also bagged the "Best Song Arrangement", "Best Vocalist" and "People's Choice" awards. His winning song composition titled "One" will be used as official song of the region to promote projects of DSWD, specifically the Community-Driven Development Program/ Kalahi-CIDSS of the department.
According to Abarquez the main theme of his composition is hope, faith, love and peace. "The song was a striking realization that if we could just tear down our prejudices and set aside politics then we could just see that we are one. I am thankful for DSWD because through this competition, local artists are given the platform to amplify these goals," he said.
"Fighting for peace was never peaceful. But I believe with sacrifices, the right attitude, and right heart we will achieve peace. And of course, we would not attain peace if we don't start within ourselves," Abarquez added.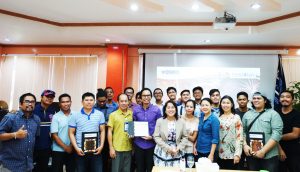 The song entries were judged based on the following criteria: Originality & Creativity (30%), Lyrics (30%), Melody (30%) and Overall Appeal (10%).  Each finalist received Php5,000 and certificate.
The contest is just one of the advocacy activities for Kalahi-CIDSS aimed to uniquely highlight the impact of the program through songs.
Regional Director Minda B. Brigoli praised all participants and finalists of the competition for their creative compositions. She hoped that through these activities it will widen the reach of the message of peace and development thrusts of DSWD through various mediums.
"Songs communicate well with one's soul. It touches one's emotions. Through this activity, we can promote the project's thrusts and goals uniquely to the general public," said Brigoli.###(APRIL MAE N. WABAN & MARKO DAVEY D. REYES /Social Marketing Unit/DSWD Field Office Caraga)
ONE
By Gospelaire M. Abarquez
Verse I
This one is for my brothers
Let's not fight any longer
Let's not turn a blind eye
'Coz there's no such thing as
 black and white
So put all your guns down
'Coz the battle has already been won
Chorus:
So come, take my hand and let's
tear down these walls
And see that we are one, yeah we
are one
Open your heart
We're not two worlds apart
There's only one truth, one way,
one love, one God
Verse II
For my generation
Let's return to righteousness
When do we realize…
If turned against each other we
destroy ourselves and our dreams?
Our children will suffer
And our struggle for peace will
never end ( will never end)
Chorus:
So come, take my hand and let's
tear down these walls
And see that we are one, yeah we
are one
Open your heart
We're not two worlds apart
There's only one truth, one way,
one love, one God
Bridge:
If we are seeking for a miracle
Come let's tear down these walls
And if we want a revolution,
let's put love in motion
And it's not about where you're from
Race or tongue, old or young
'Coz in God we are one
Chorus:
So come, take my hand and let's
tear down these walls
And see that we are one, yeah we
are one
Open your heart
We're not two worlds apart
There's only one truth, one way,
one love…
So come, take my hand and let's
tear down these walls
And see that we are one, yeah we
are one
Open your heart
We're not two worlds apart
There's only one truth, one way,
one love (4x)…..one God