Day in and day out, Vilma O. Llano, a resident and community volunteer of Purok Malipayon 2, Barangay Cawilan,Tubod,Surigao del Norte, closely monitors the on-going construction of their single barrel box culvert sub-project. As the Barangay Sub-Project Management Committee (BSPMC) chairperson, Vilma's duties and responsibilities include monitoring and ensuring their sub-project's implementation and completion. The said sub-project amounting to Php1,018,317 is funded through the Kapit-Bisig Laban sa Kahirapan-Comprehensive and Integrated Delivery of Social Services (Kalahi-CIDSS) program.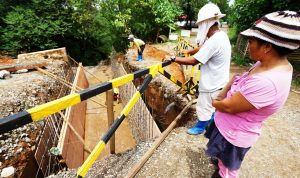 In recent years, the community have experienced massive flashfloods spawned by heavy rains partly attributed to changing climate conditions. These occurrences caused great damage to crops, livestock and properties in Barangay Cawilan. With this, the community agreed that installing a box culvert was necessary to lower flood risks in the barangay. Vilma along with other volunteers with the help of their local officials, are pinning their hopes that their hard work will not go in vain once their sub-project is completed.
Kalahi-CIDSS is one the programs of the Department of Social Welfare and Development (DSWD) which employs a Community-Driven Development (CDD) strategy to empower communities and improve local governance to achieve sustainable and inclusive development With this approach, communities determine the most urgent problems confronting them and propose solutions to address these needs.