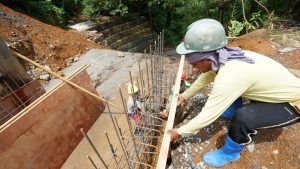 Paid laborers and community volunteers of the Kabit-Bisig Laban sa Kahirapan – Comprehensive and Integrated Delivery of Social Sergices (Kalahi-CIDSS) are working double time on their community sub-project – a box culvert that will address the constant flooding of the major parts of Brgy. Cawilan, Tubod, Surigao del Norte.
A large area of the barangay, most specifically the area in and around the barangay elementary school, is regularly hit by flashfloods during rainy days because of the fact that the canals draining to the main river is very narrow. Flooding occurs since all the canals converge on a culvert 5-feet in diameter that traverses the barangay road before draining to the river.
Even during light downpour of rain, flooding occurs since water is drained slowly. The pressure of the water has also eroded the side of the road, blocking parts of the canal and the culvert.
With this, the community has proposed a much bigger and sturdier box culvert which will surely do the job. But with the rainy season already on its way, the community is working overtime to complete their sub-project.
Through the Kalahi-CIDSS program, the community has been given the opportunity to identify their needs and a chance to address their needs through a participatory process, and active participation in the program implementation.