SURIGAO DEL NORTE–As part of the government's role in local poverty reduction, the Department of Social Welfare and Development (DSWD) through the Kapit-Bisig Laban sa Kahirapan – Comprehensive and Integrated Delivery of Social Services (Kalahi-CIDSS) Field Office Caraga inaugurated and turned-over six (6) completed community sub- projects amounting to Php4,856,000 to its beneficiary barangays in the Municipality of Sta. Monica in this province last November 3, 2016.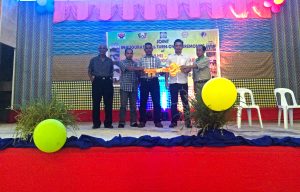 DSWD Caraga General Administration & Support Services Division (GASSD) Chief Ramel Jamen and Municipal Mayor Fernando Dolar along with Vice Mayor Arwela Dolar and Sangguniang Bayan (SB) members graced the inauguration and turn-over ceremony of the community sub-projects.
The said event was also witnessed by Barangay Captains, Civil Society Organizations (CSOs), and Kalahi-CIDSS community volunteers, and non-volunteers. Also present were the Sub-Regional Program Management Office (SRPMO) staffs of Kalahi-CIDSS Caraga along with the Area Coordinating Team (ACT) of Sta. Monica.
The Kalahi-CIDSS sub-projects include the following: 220 Linear-Meter Concrete Pathway in Abad Santos (Php738,000), 20 Units Solar-Powered Street Lights in Bailan (Php678,000),  220 Linear-Meter Concrete Pathway in Libertad (Php760,000), 25 Units Solar-Powered Street Lights in Mabini (Php842,000), 55 Linear-Meter Drainage Canal in Magsaysay (Php993,000) and 197 Linear-Meter Concrete Pavement in Rizal (Php845,000).
The local government unit of Sta. Monica allotted Php460,829 cash and in kind donation as counterpart for the realization and completion of the mentioned projects.
Elizabeth E. Alaba, a Procurement Team (PT) volunteer of Brgy. Garcia felt proud and happy to be able to witness the event.
"Malipayun ako nga mamahimung saksi sa maong aktibidad og isa sa instrumento sa kalambuan sa amung komunidad (I am happy to be one of the witnesses of this event and be an instrument for the development of my community)," said Alaba.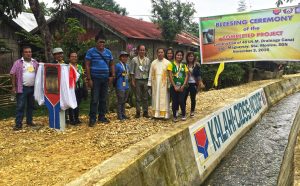 Barangay Sub-Project Committee Chairperson of Bailan, Deofelyn E. Escobal expressed her gratitude for the 20 Units Solar-Powered Street Lights now installed in their community.
"Dako ang akung pasalamat sa Kalahi-CIDSS kay natagaan na gajud ug kahayag ang amung mga mangitngit nga kagabhion, tungod niini naminusan gajud ang insidente sa droga sa amung barangay. Ako malipayun usab nga nakatabang sa paghimugso sa maong proyekto kaubanan sa akong mga co-volunteers (I am grateful for Kalahi-CIDSS because we finally have light during the night which in turn will lessen drug-related activities in our barangay. I am also happy to be part of the project's successful implementation along with my co-volunteers)," Escobal shared.
"Dako usab ang akong pasalamat niining programa sa gobyerno kay nahatagan kami ug kaalam ug kapasidad sa pag implementar sa among mga proyekto inubanan sa pag-facilitate sa Kalahi-CIDSS Staffs. Busa kami nanghinaut nga aduna pa kami dugang nga proyekto, kay willing gihapon kami muserbisyo alang sa kalambuan sa amung mga komunidad (I am also grateful for programs like these of the government because we are capacitated to implement our development projects through the guidance of Kalahi-CIDSS Staffs. That's why we hope that we will have more projects like this because we are still willing to volunteer for the development of our community), "she added.
Kalahi-CIDSS is one the programs of DSWD which aims to empower communities and improve local governance to achieve sustainable and inclusive development.