Barangay officials and volunteers of Domoyog, Del Carmen, Siargao, Surigao del Norte, proudly pose in front of their community evacuation center worth Php1,000,000, completed through their concerted efforts and funds from the Kapit-Bisig Laban sa Kahirapan – Comprehensive and Integrated Delivery of Social Services (Kalahi-CIDSS).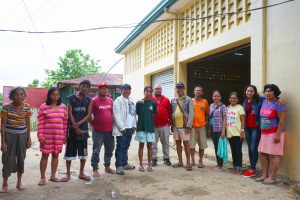 Situated in the southwest portion of Siargao Island, Del Carmen is among the areas of the island often struck by storms coming from the Pacific Ocean during the rainy season.  That is why when Super Typhoon Yolanda barrelled through the country in 2013, Del Carmen was among the municipalities affected during the onslaught. Residents of Barangay Domoyog would recall how most of them were drenched by rain because their houses, built mostly with light materials, were blown off by the powerful winds during the ravage of the typhoon. Thankfully, no casualties were reported in the barangay but the devastation was apparent. Learning from their experience, the community then unanimously decided to propose the sub-project to address their needs.
With the evacuation center sub-project successfully completed, the community may now be able to utilize the building as a multi-purpose venue during dry season and weather the next storm during rainy season or inclement weather.