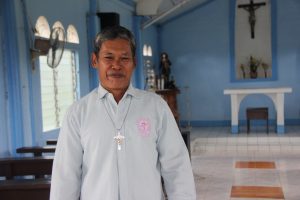 "My hope for my children is for them to have a good life while our lives (with his wife) associated like a sunset in the late afternoon and theirs have just started to rise," – an eminent statement from a father whose love for his family is beyond compare.
Fernando Baron Sr., 51, a tenant-farmer, proves to be an icon of strong determination and unconditional love for his children. His life is an inspiring story of a father from a simple yet peaceful community in the eastern part of the town of Placer. Hailed from Purok 4, Amoslog, Placer, Surigao del Norte, Fernando is happily married to Gloria for 30 years now and they are blessed with six (6) obedient children.
His story evolves with profound sacrifices and courage for his children not to experience the appalling hardship he underwent.
"Because I have experienced poverty, I prayed to God that He would bestow me good health so I can send my children to school that they will not experience the difficulties I have experienced," shared Fernando.
Humbled by the fact that he was orphaned at the age of six and has to work hard at an early age for him to survive, Fernando dreams that all his children finish school and have a good life. However, that situation in his life made him more courageous and closer to God that despite all trials and hardships in life.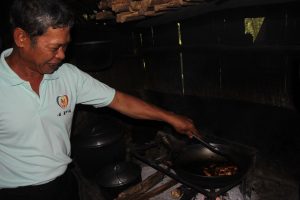 Clothed with humility, he demonstrates himself as the responsible head of his family that eventually produces positive result. He is respected and loved by his children and wife. Because he is a role model to his children, they compensate all his sacrifices by being obedient to them and focusing their attention in their studies.
Now, with all efforts poured, Fernando and his wife already have three (3) children who finished college and are pursuing their individual career tracks. One is currently studying in college and two are in high school and elementary, respectively.
All their earning from their toils goes to the school expenses of their children which they considered as top priority.
According to him, he has no significant properties for his children to own yet. However, he strongly believes that he is on the right track in raising them in the right path and enabling them to obtain good education. For him, it is his sole legacy, that is far better than any material things for his children.
His influence as a family man even radiates to his community. Fernando serves as a lay minister in their church for 23 years now. He engages himself in all church activities and takes charge of the duties that their assigned priest would be unable to perform like doing homily and ushering the Holy Communion in their small chapel. For Fernando, his low educational attainment does not impede him to serve God and his community. He is also a good adviser and a source of inspiration to his churchmates. His humble yet profound heart touches many lives who are blessed with his service as "kaabag" (chapel priest). Fernando's story is just one tale affirming that our individual role in the society, big or small, can make a difference.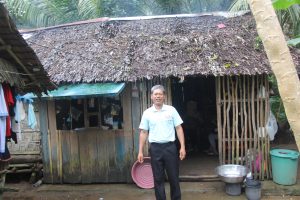 Fernando recognizes the significant role of his wife being his companion and a partner. He even described his wife as patient, loving, and hardworking. According to him, he has become a good father and husband because of his wife who stands along with him. Doing household chores usually done by wives does not diminish his value as a man, however, he believes it fortifies their bond as husband and wife.
His magnanimous life example is worthy of emulation, thus, qualifies him the Modelong Ama in Surigao del Norte###(RYAN MALBAS TAPAYAN/Social Marketing Unit/DSWD Field Office Caraga)