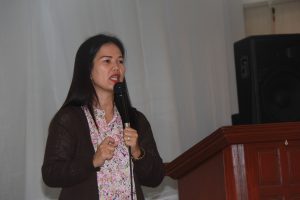 BUTUAN CITY– The Department of Social Welfare and Development (DSWD), in partnership with other National Government Agencies (NGAs),  leads this year's week-long Adoption Consciousness Celebration from February 11-19, 2017.
Among the lined-up activities prepared by the Protective Services Unit, the Adoption Forum served as one of the highlights since there were invited partner-agencies, selected Local Government Units (LGUs), adoptive parents who attended the said half-day activity at LJ Mega Convention, this city on February 16.
With the theme "Pagmamahal Palaganapin, Legal na Pag-aampon Ating Gawin (Spread Unconditional Love through Legal Adoption)," the celebration targets to advocate legal adoption as a means of providing compassion and unconditional love to abandoned, neglected and surrendered children.
The primary objectives of the activity are:  1)  to disseminate basic information about legal adoption including the adoption process, documentary requirements, procedures and the benefits and effects of adoption to the public; 2)  to educate the public on the legal process of adoption that may lead to applicants for domestic adoptions or inquiries on adoption and other forms of alternative family care; 3)  to respond to inquiries of the public on adoption and other forms of alternative family care thru Adoption Help Desks; and 4)  to provide program orientation on adoption and foster care laws and guidelines to the officials and staff of DILG.
Jessie Catherine Aranas, Regional Focal on  Adoption, reported during the seminar the total picture of adoption natiowide.
"According to DSWD – Protective Services Bureau,  out of 5,695 children declared as legally available for adoption (CY 2009- as of January 17, 2017), only 1,409 children were placed-out for domestic adoption. The data reveals that there is a high number of neglected/abandoned children in centers/institutions waiting to be adopted," said Aranas.
"Other than this growing data, issues such as public's perception on adoption, lack of interest of families to adopt and the discrimination experienced by adopted children should likewise be addressed," she added.
OIC Regional Director Mita Chuchi Gupana-Lim encourages all government agencies to promote and advocate legal adoption as it remains a strange concept in the society.
"Let us altogether advocate legal adoption all the time and not just during occasions that we commemorate this celebration. The underlying objective is towards our goal of providing a child a kind of family he/she deserves," Lim exclaimed.
Presidential Proclamation No. 72 signed on February 3, 1999 by the former Hon. President Ejercito Estrada stipulated the observance of Adoption Consciousness Day to call for public attention and ensure nationwide awareness on legal adoption of surrendered, orphaned, abandoned, and neglected Filipino children in need of permanent home###(RYAN MALBAS TAPAYAN/Social Marketing Unit/DSWD Field Office Caraga)