BUTUAN CITY- To celebrate the 66 fruitful founding years of the Department of Social Welfare and Development, the Field Office paid tribute to its partner-stakeholders who generously dedicated their resources and expertise in helping the Department carry out its mandate of providing quality life for the poor, vulnerable, and disadvantaged sectors.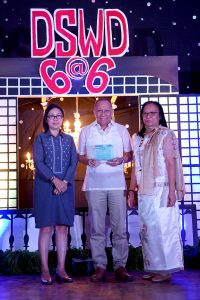 The regional celebration happened at Almont Hotel's Inland Resort on February 13, 2017 highlighting the theme, "DSWD@66:May Malasakit" which underscores the compassionate service of DSWD throughout the years.
In her opening remarks, Assistant Regional Director for Administration Nerisa Murih, expressed hopes to increase number of partner-stakeholders and implement pro-poor programs and services.
"In our 66th year, DSWD Caraga calls for a strong partnership and hopes to establish more partnership to various private and public institutions region-wide to pro-actively deliver the social welfare services to the communities, a wonderful service that is compassionate and timely," said Murih.
The awardees were given Plaques of recognition which was personally handed by DSWD Office of the Secretary Field Program Manager Marita Pimentel and ARDA Murih.
The following are the awards given during the celebration; PANATA Ko sa Bayan, PRESTIGE, and Child-Friendly Local Government Units.
PANATA or Pagkilala sa Natatanging Kontribusyon sa Bayan Awards gives recognition to any local development partners as well as individuals who have selflessly dedicated thei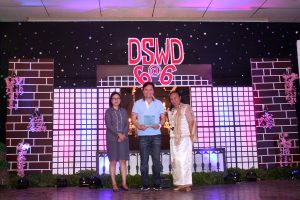 r time, talent and resources to help the Department in providing better opportunity for the poor, disadvantaged, and vulnerable sectors in the society.
It has four categories namely Salamat Po Awards, Gawad sa Makabagong T
eknolohiyang Panlipunan, Gawad Paglilingkod sa Sambayanan (GAPAS), and Gawad Ulat.
The following are the list of winners of the said award:
Salamat Po
Local Development Partner – Northern Mindanao Technological Training Institute
Local Volunteer in Support to Regional Rehabilitation for Youth (RRCY) – Pastor Chito Ruina
Local Development Partner in Support to Home for Girls – Equi-Parco Construction Company
Local Development Partner in Support to Sectoral Programs – Robinson Place, Butuan City
Local Development Partner in Support to Disaster Operations – Naval Intelligence and Security Group Eastern Mindanao (NISG-EM) and Naval Task Group 72
Local Volunteer – Jean Cordita, Kalahi-CIDSS BSPMC Chair in Pilar, Surigao del Norte
Gawad sa Makabagong Teknolohiya Panlipunan
Bacuag, Surigao del Norte
Gapas Award
Model LGU Supporting the Implementation of Pantawid Pamilyang Pilipino Program – Tandag City, Gigaquit, San Francisco AdS, RTR, and Province of Dinagat Islands
Model LGU implementing Outstanding SLP Microenterprise Development Model – Sibagat
Model LGU implementing Outstanding SLP Employment Facilitation Model – Sibagat
Model LGU Implementing Day Care Service – Surigao City
Model LGU Implementing Protective Programs and Services – PSWDO of Province of Dinagat Islands, CSWDO of Bislig City, MSWDO of San Francisco AdS,
LGU Implementing Protective Programs and Services (TAWAG) – MSWDO of Alegria
LGU Implementing Protective Programs and Services (PDAO) – PDAO of Bislig City
LGU Implementing Protective Programs and Services (Supplementary Feeding Program) – Jabonga
LGU Implementing Protective Programs and Services (Social Pension Program) – Socorro
People's Organization – FSCAP of General Luna, PYAP of Bayugan City
Model LGU Implementing Kalahi-CIDSS – Las Nieves
Gawad Ulat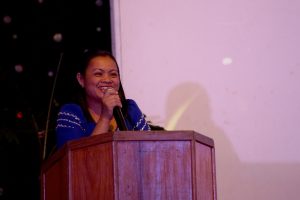 Most DSWD Supportive Print Media Outlet – Mr. Mike Crismundo of Manila Bulletin, and Mindanao Daily News
DSWD-Supportive TV Station – ABS-CBN TV Patrol Caraga, and NMBS Bee TV
Most DSWD-Supportive Radio Station – Radyo Trumpeta
Most DSWD-Supportive Online Media – Philippine Information Agency (PIA-Caraga)
Most DSWD-Supportive Beat Reporter – Ms. Aisa Supas of Radyo Trumpeta
DSWD Social Media Advocates – Ms. Sheryl Lorenzo, Ms. Jannel Murillo, and Pantawid Pamilya Municipal Link Officer Michel Montenegro.
The next award is PRESTIGE or Promoting Resurgence and Excellence of Social Welfare Officers as Transformation Agents for Inclusive Growth and People Empowerment. This award is given to the most functional Local Social Welfare and Development Offices (LSWDOs).
Fully Functional LSWDOs – Nasipit, Carmen, Sibagat, Esperanza, Prosperidad, Rosario, Bayugan City and Butuan City
Another award give
n is the Child-Friendly Local Government Units (LGUs) to recognize the collective efforts of people in the LGU who provide quality and effective programs and services for the children.
Child Friendly LGUs – Cabadbaran City, Butuan City, Bayabas, and Cagdianao
Aside from the above-mentioned awards, outstanding employees of the Department were also awarded for their service and commitment through the Program on Awards and Incentives for Service Excellence (PRAISE). Also, Loyalty Awards were given for the internal staffs who have served the Department for ten (10) years or more.
Loyalty Awards (10 years)
Tyreen M. Adlaon, Cheril Q. Jorta, Reolita D. Jue, Thesa Joy B. Musa, and Glezza T. Ty
Loyalty Awards (15 years)
Ryan V. Piamonte, Raffy R. Pocon, and Rosalie I. Vasquez
Loyalty Awards (20 years)
Benedicta B. Laña, Ma. Gennette B. Marban
Also, Mr. Ramil M. Taculod received the Gawad Huwaran (MaHUsay, WAsto, at Responsableng Lingkod BayANi ng DSWD) and Juvy P. Echavaria for the Gawad Kalihim (a special award for the Memorandum workers serving 15 years or more).
Ms. Marita Pimentel, the guest speaker, delivered a keynote message which emphasized on the thrust of the new administration in terms of compassionate service delivery.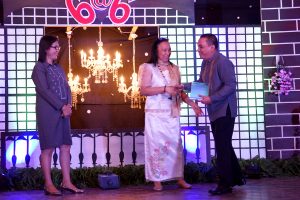 "As the agency celebrates its 66 anniversary, let us continue to deliver our programs and services to the community with a compassionate heart," said Pimentel.
"It's amazing how the region answers the immediate needs of the families affected by the series of catastrophe. With this, let us continue doing this deed as the department carries its mandate as lead agency for development and welfare," she added. ###(ABEGAIL R. ALVAREZ/Social Marketing Unit/DSWD Field Office Caraga)