"Hope is a good thing, maybe the best of things, and no good thing ever dies."- Stephen King
Imagine what daily life would be without easy access to clean drinking water. When you have to wake up before sunrise every morning and spend almost an hour treading a muddy, perilous trail just to get to the nearest water source. And then, carry the gallons of murky water that you fetched from an open dug well all the way back to your homes to serve to your loved ones for daily consumption. You probably would not even count the times they have suffered of stomach pain and diarrhea from drinking contaminated water. But you have no choice; you have to live with what you got. This may be a dreadful scenario to think of but for many remote communities in the country, this is the problem that they face every single day.
For 58 year-old Anthony Encabo and other residents of Sitio Bagong Silang, Santa Maria, Trento, Agusan del Sur, this is their sad reality. Access to clean, cheap, readily available water is something of a distant dream for the community.
Their long-time dream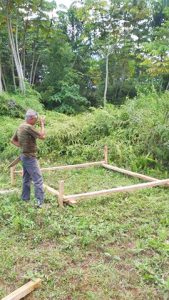 Sitio Bagong Silang is one of the far-flung puroks of Barangay Santa Maria located at the boundaries of Surigao del Sur and Agusan del Sur. Reaching the area from the poblacion would take you more than an hour of bumpy habal-habal ride through some rough roads. In fact, a back and forth trip to the community costs around Php1,500 because only few vehicles venture there since the road is rugged and the terrain is difficult. People in the area would often tend to buy for their consumption in bulks, enough to last a month. This is one of the reasons which hampers the growth and development of Bagong Silang. They are deprived of even the basic necessities such as electricity and most importantly potable water.
"Ang among makuhaan ug tubig dinhi balon lang. Kung magtaas ang init, kami mangandoy jud ug ulan. Kay ang mga tao dinhi dili na ka agwanta mag inom ug tubig na gikan sa balon. Kung walay ulan, wala miy mabuhat kundi mag antos ug inom sa tubig nga gikan sa balon unya manglain among tiyan (Our only source of water here is a deep well. During prolonged dry season, we pray for rain. That is because the people here could no longer endure drinking water from the well. If it does not rain, we have no choice but to settle for the water from the well which causes stomach discomforts), "Anthony shares.
Despite these overwhelming challenges, the people in the village continued to live in the area because for them it was where they found "home". For Anthony, who has relocated in the place in 2008, it was where he found refuge after being shattered by grief from losing his twin children. He, along with other residents, have always hoped and dreamed that one day, things will become better in their community.
Anthony's "never give up" spirit
Determined to get what they have been yearning for years, the community sought the help of their barangay officials. However, with the limited budget of their barangay local government unit, there would not be enough resources to finance a water system project that would address their needs.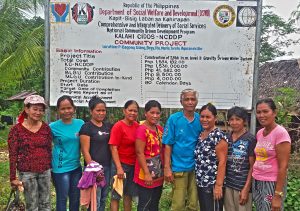 Upon learning that their water system project was not plausible at that moment, most people in the community became discouraged. Their hopes were like that of a candle they lit through their nights with its flame slowly dying and burning out, succumbing to the dark.  Most people in Sitio Bagong Silang thought that their dreams will never be a reality but not Anthony.
He refused to give up and still held on his hopes and dreams for his community. He never let their circumstances dampen his spirit. He encouraged and led his community in finding ways and means where they can voice out their needs. An opportunity came when Kalahi-CIDSS came to their municipality in 2015.
Kalahi-CIDSS or the Kapit Bisig Laban sa Kahirapan Comprehensive and Integrated Delivery of Services is one of the programs of the national government implemented under the Department of Social Welfare and Development (DSWD). It utilizes the Community-Driven Development (CDD) strategy, a globally recognized approach geared towards achieving a more inclusive development wherein communities are empowered and given the opportunity to identify projects that will address their most urgent needs and implement these development projects themselves.
Anthony saw Kalahi-CIDSS as an avenue where the community will finally be able to realize their water system project that is why he became a volunteer for the program. He was able to persuade a number of people in his village to join him in becoming a volunteer.  With the kind of leadership and persistence Anthony has demonstrated, the community chose him to become their Barangay Sub-Project Management Committee (BSPMC) chairperson.
Persistence despite resistance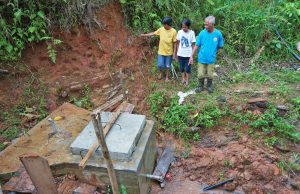 However, many others were still not convinced of the program because they have seen several organizations and politicians in general who came with promises to raise their hopes
up only to smash it with disappointments because these organizations and politicians fail to deliver their commitments. This was evident during their preparations for the Municipal Inter-Barangay Forum (MIBF). The MIBF is an event wherein Kalahi-CIDSS community volunteers and local officials gather to collectively analyze local poverty conditions. The representatives of each barangay will present their proposed solutions before a selection board on prioritization of projects determined through the criteria agreed upon by the barangays. Raquel Dagatan, Project Implementation Team (PIT) chairperson and Rebecca Sortones, Barangay Representation Team (BRT) chairperson remembered how they were ridiculed by people who thought that their efforts will just be futile in the end.
"Kadtong magpatawag ug meeting sa una, magsige ug ingon ang uban na sayang-sayang lang daw sa ilang oras. Mao tong dili na sila muapil kay nagtuo sila na dili jud mi mahatagan ug project (When we call for a meeting before, others would say that it was just a waste of their time. That is why they do not attend because they believed that we will never be given a project), "Raquel recalls.
"Ang uban mangatawa gane kay siguro ilang huna-huna dili matuman ang amung pangandoy na proyekto. Pero akong huna-huna, wala man sad mawala kung muapil ko ani. Para sa ako, mas maayo na naa kay mabuhat para maipaabot imung panginahanglanon (Others would even laugh at us perhaps because they thought we will never attain the project that we have dreamed of. But I thought, I would lose nothing if I join this. For me, it is better that you did something to speak out your needs), "Rebecca adds.
Despite all the criticisms they got from cynics of the program, Anthony and other volunteers continued to work hard and complied with all the requirements needed-from problem identification to proposals.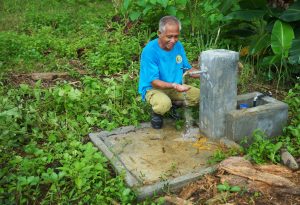 From dreams to reality
Indeed, all hard work never goes in vain as during the MIBF, Sitio Bagong Silang was among the barangays chosen for prioritization of which their projects will be funded through Kalahi-CIDSS. The community especially the volunteers rejoiced because the project that will address one of their needs will finally be realized. It was a surreal moment for Anthony, who was one of the people who have worked the hardest to push through the project. In fact, he was so overwhelmed with joy that during the lay-outing of their sub-project, he was moved to tears.
"Dili nako mapugngan ang akong gibati karon na adlaw. Nakita na nga klaro na natubag ang amung pinaka damgo na magkatubig. Salamat sa Kalahi sa paghatag sa proyekto na haom sa paningahanglanon sa barangay (I could not control my emotions today. Now, we can clearly perceive the fulfilment of our greatest dream to have potable water. I thank Kalahi-CIDSS for providing projects that is appropriate for the needs of the barangay), "Anthony says.
The water system sub-project is just one of the answers to the needs of the community of Sitio Bagong Silang. They still need electricity and improve their road condition to jumsptart development. But unlike before, the community is more hopeful than ever that these needs will soon one by one be addressed. For Anthony, he believes that determination and faith in God are the keys for the realization of one's dreams.
"Kung naa kay gusto, mulihok ka ug ipaabot jud nimo kung unsa imung panginahanglanon. Dapat dili dapat mawad-an ug paglaom nga naay mudungog sa imung problema. Kailangan mag agwanta lang jud ug salig sa Ginoo nga dunggon niya inyong pag ampo (If you want something, you should work for it and voice out your needs. You should never lose hope that someone will hear your problems. You should endure and trust in God that He will answer your prayers), "Anthony shares.