"The empowerment of women is the most effective tool for development." Kofi Annan
It is often said that when you empower a woman, you empower a nation. This is a recognition not just of women's significant impact to community development but also to acknowledge women as crucial agents of positive change for every nation. That is why a woman's power of influence should not only be limited to her traditional role in the family but should also extend in her partake in local development projects. For a country to attain sustainable development, it must be inclusive and responsive to gender needs.
This is one of the primary objectives of the Kalahi-CIDSS or Kapit Bisig Laban sa Kahirapan -Comprehensive and Integrated Delivery of Social Services program of the Department of Social Welfare and Development (DSWD). It employs the Community Driven Development (CDD) strategy to facilitate community empowerment by capacitating and ensuring that all sectors in the community can contribute to create opportunities, fully participate in local governance, and decision making.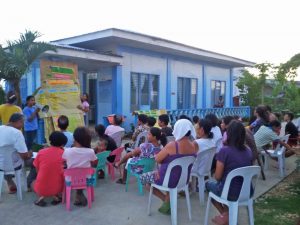 Jean E. Cordita, a long-time Kalahi-CIDSS community volunteer and Barangay Sub-Project Management Committee (BSPMC) chairperson of Barangay Punta, Pilar, Surigao del Norte, is a prime example of how an empowered woman can help empower her countrymen. She is also part of the barangay women's organization and a full time Day Care Worker. But even with these responsibilities, she has always taken the initiative in guiding and leading her community to participate in every activity conducted by Kalahi-CIDSS. Having attended several capacity-building trainings of the program, she was able to enhance her facilitation and leadership skills which she maximized during their barangay assemblies and sub-project implementation.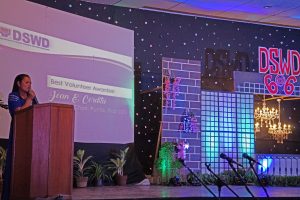 Sharing the learnings she gained from the seminars, she was able to help train other community volunteers which has immensely contributed in the completion of their sub-project. Her advocacy to improve their community (especially access for schools and roads for the children in the community) has garnered her the respect of the rest of the community. With these, her barangay has been a top performing barangay in the implementation of Kalahi-CIDSS, not only in Pilar, but in the whole of Caraga. Hence, she was awarded as the "Best Volunteer" of the program during the region's DSWD 66th anniversary celebration last February 13, 2017 at Almont Inland Hotel, Butuan City.
Jean believes that true change can be attained through the partnership of the government and the different key players in the community. It is in this belief that she aims to be a productive citizen, one that brings meaningful change in the community, and aids in the improvement of local governance. She underlined this in her inspirational speech during the program's awarding ceremony.
"Dako kini nga hagit sa ako ang magdumaya sa usa ka sub-project ug manguyo sa pagkumbinse sa katawhan nga sila makiglambigit sa mga kalihukan nga makahatag ug gahum nga kami mga katawhan makahimo ug desisyon para sa kalambuan sa komunidad. Dili kini sayun nan responsibilidad apan inibanan sa suporta nan MLGU, BLGU, MCT, ACT ilabi na ang komunidad, ang paglambo ato kini maabot (It is a great challenge for me to manage a sub-project and lead in persuading people to be involved in activities which can give them the power to make decisions for the community's development. This is not an easy task but with the support of MLGU, BLGU, MCT , ACT, and especially the community, we can achieve progress)," she shares.