BUTUAN CITY- A total of seven (7) teams of elementary students actively participated the dance drama competition of the Department of Social Welfare and Development (DSWD)-Caraga spearheaded by the Adoption Resource and Referral Section (ARRS).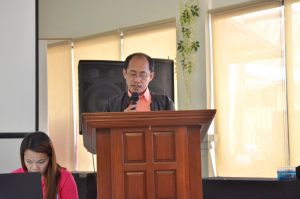 The said competition is part of the Culmination of the Adoption Consciousness Celebration held at LJ Mega Convention, Butuan City on February 27, 2017 which bears the theme, "Pagmamahal Palaganapin, Legal na Pag-aampon Ating Gawin (Spread Unconditional Love Through Legal Adoption)."
Division Chief Ramel Jamen, during his welcome remarks, emphasized the importance of legal adoption and encourages partner-stakeholders.
"It is important to inform the public about the process of legal adoption. In this way, we can protect the best interest of the child and we can also help couples who wanted to have their own child," said Jamen.
"I also encourage our partner-agencies to spread adoption and advocate it to the community so more parents and families will engage on the legal process for adoption," he added.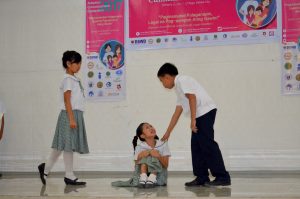 The following are the schools which participated in the competition; Butuan Central Elementary School (BCES), West City Central, J.T. Domingo, Obrebro Elementary School, Ampayon Central Elementary School, Libertad Central Elementary School, and Couple's for Christ School of the Morning Star (CFC-SMS).
Each participating teams consists of 5-8 students. The contenders may use English or Tagalog as medium of communication, and will be given 5 minutes to present their original piece. Most importantly, the dance drama must correctly reflect the theme about legal adoption.
In the competition, students from West Central School got the first place, while CFC-SMS got the 2nd place and the 3rd place for BCES.
Also, the celebration awarded the internal staff from the Capability Building Unit (CBU) which won the Deca3x film contest that highlights legal adoption. While the 2nd, 3rd, and 4th prizes were awarded to Pantawid Pamilyang Pilipino Program and Personnel Unit respectively.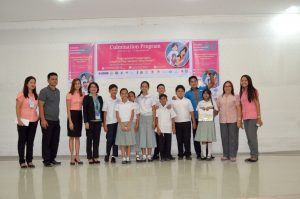 Prior the culmination celebration, the Department set-up an Adoption Help Desk and Photo Exhibit in Robinsons Place for 2 days on February 11-12, 2017. The said help desk answered queries from the public regarding the legal process of adoption.
The Adoption Consciousness Month is celebrated annually by DSWD together with the partner-agencies every February. ###(ABEGAIL R. ALVAREZ/Social Marketing Unit/DSWD Field Office Caraga)