CAGAYAN DE ORO CITY- A total of 48 field staff or City/Municipal Action Team (C/MAT) leaders of the Department of Social Welfare and Development (DSWD)-Caraga finally completed the Leadership for Convergence Program (LCP) in partnership with Xavier University-SEARSOLIN, Cagayan de Oro City.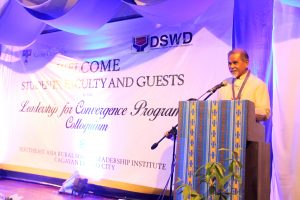 The said graduates who are already employed in the Department met the requirements and passed the standards of performance set by the said University.
To celebrate their success, the agency conducted the Leadership for Convergence Program Colloquium which was attended by OIC-Regional Director Mita Chuchi Gupana-Lim on March 17, 2017 at Cagayan de Oro City.
The said graduates were trained with the modules on Leadership Skills, Team Management, Partnership Building, and Technical Writing. This course was taken within a period of 6 months or more wherein all corresponding school fees were paid by DSWD.
Keynote Speaker Romeo P. Tiongco, former Mayor of Damulog, Bukidnon and AIM Mindanao Bridging Leadership Fellow, lauded and reminded the graduates about leadership during the graduation ceremony.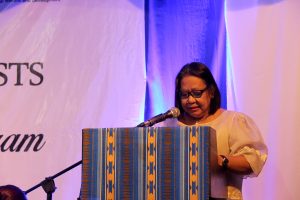 "A good leader has a clear vision and carries it to his community. I hope that this success will lead you to become a great leader not just in your workplace, but also to the community that you belong," said Tiongco.
Also, OIC-Regional Director Mita Chuchi Gupana-Lim, congratulated the graduates for their efforts.
"I commend you all in succeeding this endeavor despite and in spite the hurdles you've encountered along your journey," said Lim.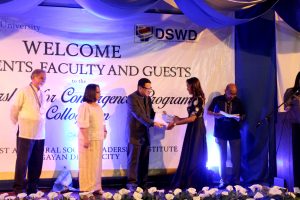 "To our dear graduates, I hope that the things you've learned from this program and institution will never be put in vain. We are hoping that you grow individually and professionally through this and will be able to find your purpose in working with DSWD and in serving our beneficiaries," she added.
Prior the graduation ceremony, the C/MAT leaders attended the leadership retreat which aims to deepen their understanding about leadership as well
as their commitment as public servant. Also, they individually shared their leadership journey through Public Narratives in front of the panelist. The said report highlights their leadership challenges and their response in improving the social welfare system of their respective municipalities.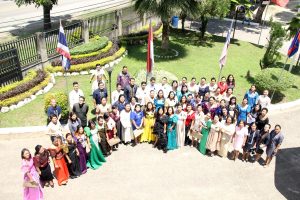 With these achievements, the said C/MAT leaders are expected to initiate strategies on how to ensure that the programs and services of the department are maximized.
The LCP is a leadership capability intervention of the department for C/MAT leaders. It aims to improve their leadership and partnership skills and instill appropriate mental models through Bridging Leadership Framework to effectively facilitate the operationalization of Convergence Strategy in their respective municipality.###(ABEGAIL R. ALVAREZ/Social Marketing Unit/DSWD Field Office Caraga)