Barangay Zone 3 in the municipality of Lanuza, Surigao del Sur has been blessed with pristine water sources such as rivers, streams, and creeks. The bounties of nature have blessed them with clean and useful water they use every day.
But during rainy days, these bodies of water rise, sometimes even flood certain areas. Motorcycles, which are the most common form of transportation in their barangay, could not pass through the streams because of the strong water currents.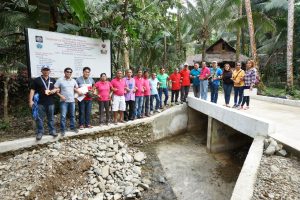 In 2014, Lanuza was among the new areas for Kapit-Bisig Laban sa Kahirapan – Comprehensive and Integrated Delivery of Social Services (Kalahi-CIDSS) of the Department of Social Welfare and Development. The program became the venue for the community to express their needs. Since the program utilizes the Community-Driven Development (CDD) approach, the community was able to voice out their needs and propose proper solutions to resolve their problems. Volunteers were chosen from among the community to implement their sub-projects.
They were able to propose, and implement two (2) community sub-projects that mitigated their road access problems. The community was able to complete a 9.50 linear-meter spillway with road concreting for the approach in 2015 and a double-barrel box culvert in 2016. The CDD process used by the program provided an opportunity for the community volunteers to identify their sub-projects. They were the ones who prepared for the sub-project plan and proposal, did all the canvassing and bidding for the materials, and oversaw the project implementation.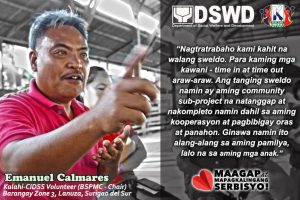 Emanuel Calmares, who served as Barangay Sub-Project Management Committee (BSPMC) chairperson, could not believe they were able to achieve the feat especially that community volunteers, who never had any background in project implementation, did all the work for the program. And they never had any problems spending time and effort volunteering for the program (without any pay/honorarium) since they have come to realize that the program was an opportunity for them to better their community's situation.
"Nagtratrabaho kami kahit na walang sweldo. Para kaming mga kawani – time in at time out araw-araw. Ang tanging sweldo namin ay aming community sub-project na natanggap at nakompleto namin dahil sa aming kooperasyon at pagbibigay oras at panahon. Ginawa namin ito alang-alang sa aming pamilya lalo na sa aming mga anak (We work even though we do not have any salary. We are like regular workers – we do "time in" and "time out" every day. We consider our community sub-projects that we have completed through everyone's cooperation and by spending some time and effort to complete as our salary, our compensation. We did this for the sake of our families, specially our children)".