Amidst the scorching heat of the sun, you would find Tessie Dador, Alicia Ang, and Richelyn Morales clothed not with a dainty dress but with sweatshirts or jackets paired with work boots and gloves wearing hard hats while shoveling and filling sacks with gravel and stones. They work hand in hand with Eglecerio Socagel and other men at the site of their Kalahi-CIDSS funded 130 linear meter concrete pavement community sub-project.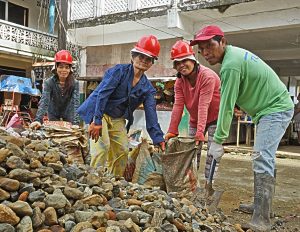 This setting may perhaps come off as a surprise not just for some people who are not familiar with the Kapit-Bisig Laban sa Kahirapan-Comprehensive and Integrated Delivery of Social Services (Kalahi-CIDSS) program of the Department of Social Welfare and Development (DSWD) but most especially because of the prevailing notion of society, stereotyping and limiting women in traditional roles. For Tessie, Alicia, Richelyn and other mighty Kalahi-CIDSS women volunteers and paid laborers of Barangay Sta. Cruz, Loreto, Province of Dinagat Islands, this is a perception that they have come to challenge.
Kalahi-CIDSS recognizes the valuable contribution and vital role of women in nation building that is why the program ensures to offer equal opportunities for women, young, old and even those with disabilities, to participate in decision making and engage in the implementation of community development projects. The program also provides opportunities for women with income generating activities through employing them in short-term engagements in the construction of their sub-projects.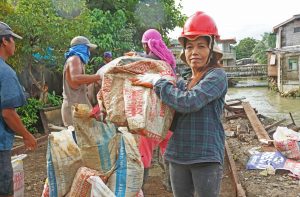 The program uses the Community Driven Development (CDD) strategy to achieve a more inclusive growth and development through facilitating community empowerment as well as promoting gender equality. With this approach, all sectors of the community is given a chance to voice out their needs, identify projects which would address these needs and allow them to implement these sub-projects themselves. To empower communities, volunteers and prospect laborers undergo a series of trainings which not only enrich their knowledge on community development and local governance but also enhance their skills while preparing them for their sub-project implementation and maintenance.
Through the years, Kalahi-CIDSS has been successful in promoting gender equality by strengthening and integrating Gender and Development (GAD) principles in its processes. In Caraga Region alone, the program was able to employ 3,141 women paid laborers and engage 13,470 women volunteers during its 2nd cycle of implementation from June to December 2016. The whole process in itself is an arduous journey for communities like Brgy. Sta Cruz, but this is something that people like Tessie, Alicia and Richelyn are so willing to undergo not only because of their deep aspiration to make a profound change in their community but also to send a message to other women that it is not up to society or anyone but you to decide what you can and cannot do to mark a difference. As what Alicia Ang, the oldest of the three wonder women of Sta. Cruz, would want to put it:
 "Kung unsay makaya sa mga lalaki makaya pud sa babaye."
(Women can do anything men can do)