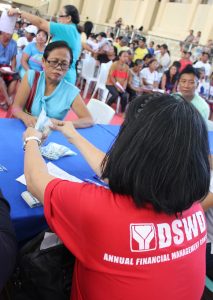 SURIGAO CITY– The Department of Social Welfare and Development (DSWD)-Caraga distributed on April 25, 2017 at the city's gymnasium the Emergency Shelter Assistance (ESA) cash grant to the 403 families whose houses were totally damaged due to the 6.7 magnitude earthquake that hit the city on February 10,2017.
Each household received Php24,000 cash intended for the repair of their devastated houses. A total of P9.67 million was disbursed by the agency for the said intervention.
Staff of the DSWD-Caraga, with the assistance of some personnel from the City Social Welfare and Development Office, facilitated the pay-out which include verification of identity documents, checking of Disaster Assistance and Family Access Cards (DAFAC) forms, and release of cash.
Angelita B. Amista, chief of DSWD-Caraga's Protective Services Unit, who led the ESA distribution expressed thanks and commendation to the local government unit (LGU) of Surigao City for providing Php6,000 each family or P2.4 million pesos in toto as counterpart to the ESA for the households identified with totally-damaged houses.
"This financial assistance is purposely provided by the government to the quake victims to aid the families in the repair and rehabilitation of their houses," Amista added.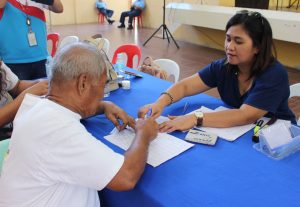 "Receipts of the house repair materials will be checked by the LGU social workers to ensure that the assistance would be used according to its intended purpose," she added.
Esederio Guardalupe, a resident of Brgy.San Juan and one of the affected, thanked the Government for the cash he received.
"Daghan gajud kami hinabang tagdawatan gikan sa gobyerno pagkahuman iton linog, tapos jari na pud ining kwarta para dugang paajo sa amo bayay na natumpag (We have received many help from the government after the earthquake, and now here is a financial assistance for the additional expenses in the repair of our devastated house)," expressed Guardalupe.
The ESA program of DSWD is the provision of emergency "self-build" shelter assistance through limited materials or financial assistance to augment resources of affected families who opted not be transferred to a resettlement site to enable them to purchase materials for their damaged houses. ###