BUTUAN CITY – Chaired by the Department of Social Welfare and Development (DSWD), members of the Regional Juvenile Justice and Welfare Committee (RJJWC) gathered on April 18, 2017 at Prince Hotel, this city for their quarterly meeting to discuss updates as to the latest going of the JJW Act now that it is being deliberated at the Congress.
Part of their discussion was the committee position on the pending bill on lowering the minimum age of criminal responsibility (MACR) from 15 to nine (9) years old.
The members of the RJJWC expressed their stand that no child should be put in jail rather they should undergo the diversion program or be placed in a rehabilitation center for youth for recovery and possible re-integration to their families and communities.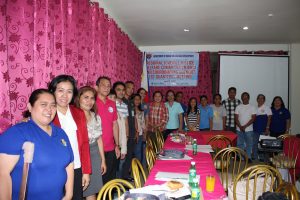 Reynaldo Balmori, Chief Personnel Records Management Officer of the Bureau of Jail Management and Penology (BJMP)-Caraga, who attended the meeting as representative of BJMP stated his opinion on the issue saying that even the physical design of the jail would suggest that it is no place for a child to be placed.
"Putting a child in jail together with adult offenders is never a good idea as a child is known to be vulnerable and can easily be influenced," Balmori said.
"When they will be mixed with adult offenders, it is like we put them to the academy of criminal minds," he added.
The RJJWC first quarter meeting agreed on conducting follow-up of resolutions for the local government units (LGUs) opposing the MACR in support to the committee's advocacy.
OIC Regional Director Mita Chuchi Gupana-Lim stated that the said resolutions from the LGUs is important to show and support the cause of DSWD and also to promote the welfare of children.
"We really need to strengthen our laws to protect our children," Lim said.
Social Welfare Officer Dante Rosales and Marietta Jandayan, RJJWC Caraga secretariat, also provided updates on the submission of the LGUs as to the Comprehensive Local Juvenile Intervention Program (CLJIP) of the LGUs which were trained last year.
The RJJWC is an inter-agency structure mandated to oversee and ensure implementation of the Juvenile Justice Welfare Act. The committee is expected to provide support in all areas of monitoring, policy and program development, advocacy and social mobilization. ###(Social Marketing Unit/DSWD Field Office Caraga)