In the midst of rolling green hills and lush rice fields surrounding Barangay Liberty, Loreto, Dinagat Islands, you would find a uniquely designed 221 linear-meter concrete footbridge. This structure is something that Rogelio D. Quirante, Jocelyn O. Colandog, Mary Jane L. Sarvida, and other community volunteers are proud to show off as they recall and share their experiences on how they were able to complete the sub-project through their collaborative efforts.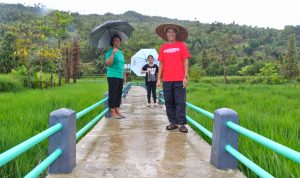 Before the concrete footbridge was built, residents of the barangay have had a difficult time getting across their farm lots because the path going there was mostly wet and muddy. Since, farming is the second source of livelihood for residents of the village, they felt a great need of an access to transport their produce. Because of this, they assembled and connected wooden planks to form a narrow, simple slightly elevated bridge-like structure just enough for people to pass. However, over the course of time, the wooden bridge became worn-out with holes and cracks emerging on its surface which made it inconvenient and unsafe for residents to walk on. Some residents even got into a mishap when they slipped and fell into the holes of the bridge as they head back to their homes while carrying their farm products. Fortunately, no one was badly injured but it was an experience they do not want to happen again. With this, the community decided to propose a concrete footbridge sub-project for funding by the Kapit-Bisig Laban sa Kahirapan-Comprehensive and Integrated Delivery of Social Services (Kalahi-CIDSS) program.
Kalahi-CIDSS is one of the programs of the Department of Social Welfare and Development (DSWD) that grants fund allocation to community development sub-projects. It uses the Community Driven Development (CDD) strategy to help empower communities. With this approach, communities in coordination with their Local Government Unit (LGU) are trained to identify and implement sub-projects that address their most pressing needs. The concrete footbridge sub-project of Barangay Liberty is just one of the examples of CDD mechanism at work. With their completed sub-project, the community felt a great relief as they now have not just a safer and easier access towards their rice fields but also a bridge that could jumpstart development for their community.