BUTUAN CITY- As response to humanitarian assistance and social responsibility, the Department of Social Welfare and Development (DSWD)-Caraga proved its swift and compassionate service (maagap at mapagkalingang serbisyo) by augmenting a total of 30,000 Family Food Packs (FFPs) amounting to Php9,859,200 and Php4,579,894-worth of non-food items intended for the Internally Displaced Persons (IDPs) in the Autonomous Region in Muslim Mindanao (ARMM) due to the on-going gun fight between the government authorities and local terrorist group in Marawi City, Lanao del Sur.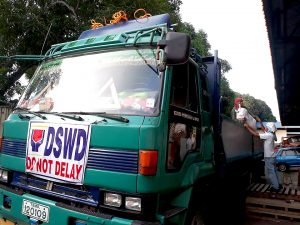 The first leg of relief distribution of 10,000 FFPs to the affected families was delivered on May 27, 2017, while additional FFPs were transported in June 1 and lastly, in June 19.
Each family food pack consists of 6 kilos of rice, 6 canned goods, and 8 sachets of 3-in-1 coffee, while the non-food items include blanket, plastic mat, mosquito net, malong, laminated sacks, and hygiene kits.
Also, the department deployed ten (10) social workers who will assist in the disaster response operations and will conduct psycho-social processing for victims dealing physical and psychological symptoms that are generally associated with trauma exposure brought about by the siege.
On the other hand, OIC-Regional Director Mita Chuchi Gupana-Lim ensured that the agency is always willing to send an additional augmentation support if needed since repacking is still on-going at Tiniwisan Warehouse, this city.
"We are always ready to provide additional intervention for the families affected in Marawi Siege. In fact, we are closely coordinating with the Provincial Social Welfare and Development Offices (PSWDOs) in the region to check the presence of IDPs and offer them appropriate interventions.  Also, we are continuously checking request from the LGUs for us to fast track our delivery of service," said Lim.
As of now, the FO is still waiting for the submission of masterlist and other related information by the concerned LGUs, although the agency already responded the communication letter from the National Commission on Muslim Filipinos seeking assistance from the reported IDPs, and the said request was already forwarded to CSWDO in Butuan City for validation and assessment for their needs. ###(ABEGAIL R. ALVAREZ/Social Marketing Unit/DSWD Field Office Caraga)