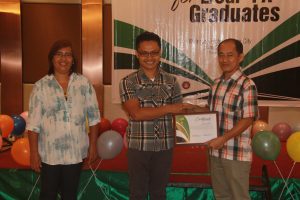 Butuan City- Around two (2) hundred Expanded/Students Grants' in Aid Program for Poverty Alleviation (E/SGP-PA) scholar-graduates participated in the testimonial dinner organized and funded by the Caraga State University (CSU) Ampayon Campus on June 2, 2017 at Watergate Hotel.
Along with the scholar graduates are their parents who were their inspiration in achieving their dreams.
On his message, Aljun O. Padios, Cum Laude and a graduate of the degree Bachelor of Science in Education major in Biology lauded the support of the different collaborative agencies in the implementation of the program.
"In behalf of the E/SGP-PA scholars, I would like to extend my heartfelt gratitude to various government agencies for their collaborative support in the implementation of this program. Without it, we would not be able to experience this success," said Padios.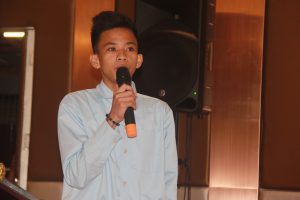 "An applause also to our parents who never fail to comfort us especially when everything turns upside down. Our parents remain our source of inspiration to continue despite all the trials in life," Padios added.
During the event also, General Administration and Support Services Division (GASSD) Chief Ramel F. Jamen who represented the OIC Regional Director Mita Chuchi Gupana-Lim congratulated the graduates for their perseverance and hard work.
"The collaborative efforts of various government agencies would be meaningless without your hard work and perseverance. You are the products of your dreams. We are only here to assist," Jamen shared.
"On behalf of our OIC Regional Director, I would like to congratulate all the E/SGP-PA graduates for your success. Your success means success of all government efforts. Continue to dream big," Jamen closed.
The ESGPPA aims to contribute in the increase of the number of enrolment in higher education in line with the national government's priority degree programs among poor households, and support college graduates' entry to labor markets through placement assistance. A student-grantee receives a maximum of Php60,000.00 scholarship grant per school year or consisting to Php30,000.00 per semester.
This is broken down to Php20,000 per year for the tuition fee, and Php5,000 per year for the textbooks and other learning materials.The remaining Php35,000, which is distributed to Php3,500 per month, is allocated for the stipend for the board and lodging, transportation, clothing, health/medical needs, basic school supplies and other related costs###RYAN M. TAPAYAN/SocialMarketingUnit/DSWDFieldOfficeCaraga###