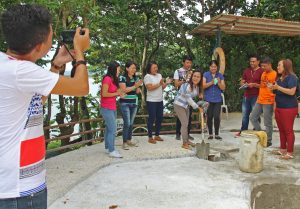 Artemio T. Menchavez Jr. attempts to capture a perfect shot of his co-team members simulating a successful implementation of a community development project funded through the Department of Social Welfare and Development's (DSWD's) Kapit Bisig Laban sa Kahirapan-Comprehensive and Integrated Delivery of Social Services (Kalahi-CIDSS) program. He and his teammates were trained during the 2nd Writeshop on Packaging Kalahi-CIDSS Development Stories in the Field and Introduction to Photography held last July 17-22, 2017 at Almont Beach Resort, Lipata, Surigao del Norte.
Two batches underwent a three-day training which was participated by Kalahi-CIDSS Regional and Sub-Regional workers. The workshop was conducted to enhance the knowledge and skills of participants on how to properly document and effectively communicate Kalahi-CIDSS success stories while underlining their role as the social marketing arms in the field. This is in line with the efforts of the program to strengthen its advocacy to promote Community-Driven Development (CDD) strategy in its implementation in the communities.
CDD is a globally recognized strategy which facilitates the empowerment of communities and enhances local capacity by providing them a platform where they can organize to determine community priorities and implement projects that will address their most dire needs.