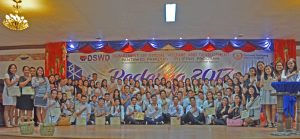 Butuan City– Another milestones anew for Pantawid Pamilyang Pilipino Program-Caraga as it successfully hosted the 3rd Padayag on August 11, 2017 at Balanghai Hotel and Convention Center, this city.
This year's theme is, "Hamon sa Bagong Henerasyon: Serbisyong May Malasakit para sa Maunlad na Bukas ng Bawat Pilipino."
Attended by almost 200 scholar-graduates of the Expanded Students' Grants-in-Aid Program for Poverty Alleviation (E/SGP-PA) in the region, the activity purposed to recognize the exemplary performance of E/SGP-PA scholar-graduates and to award the regional winners of the 2017 Search for Exemplary Child, Huwarang Pamilya and Modelong Parent Leader.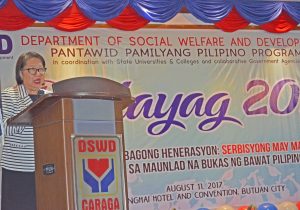 Specifically, Padayag aims to Publicize the gains of the program and services implementation of DSWD in partnership with various partners and stakeholders; to keep the partners abreast about the latest activities of DSWD, and to provide an avenue for the partner beneficiaries to share their stories of positive change.
In her message, DSWD Regional Director Mita Chuchi Gupana-Lim lauded the dedication of the scholar-graduates, who despite some circumstances, have strived hard to reach their goals, to graduate from college
"Your success is our milestone to count. You serve as a living testimony that the programs and services lodged by the government to social welfare and development have reached those who need it most, and at the least, have created an impact to their lives. You [referring to the graduates] are a number to recon," said Lim.
"For almost nine (9) years now, Pantawid Pamilya continues to receive negative reviews from various critiques who do not believe in it. They [critiques] maligned that the program is promoting the culture of mendicancy among poor Filipino households and that we advocate dependency," shared Lim.
"Much as we want to provide counter statement on this concern, we remain true to our service by strictly monitoring the compliance of our partner-beneficiaries to the conditions of the program through the help of various collaborative agencies. Now, here we are in this wonderful occasion, an opportunity for us to recognize your success," she added.
Included in the activity is the awarding of the regional winners of the regional search for exemplary child, modelong parent leader and huwarang pantawid pamilya. Winners of the said competition are coming from Tubod, Surigao del Norte; Butuan City, Agusan del Norte, and Lianga, Surigao del Sur, respectively.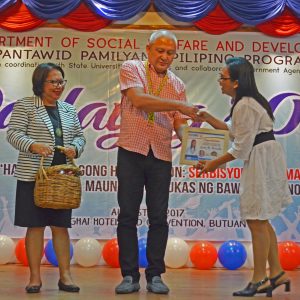 This year's Padayag guest speakers were Mr. Aljun Padios, representative of the 200 E/SGP-PA scholar-graduates; Ms. Marie Grace Ponce, Representative of Pantawid Pamilyang Pilipino Program Director Leonardo Reynoso, and Cong. Johnny T. Pimentel, Representative of 2nd District of Surigao del Sur.
In his message, Cong. Pimentel challenged the graduates.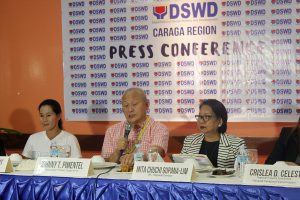 "Now that you have reached this success, continue to inspire yourself and never give up. Wonderful opportunities wait to those who have confidence. You are one step closer in making your dreams a reality," shared Cong. Pimentel.
Fight song was the batch song of this year's Padayag served as the concluding activity of the event. A press conference then followed###RyanMalbasTapayan/SocialMarketingUnit/DSWDFieldOfficeCaraga###