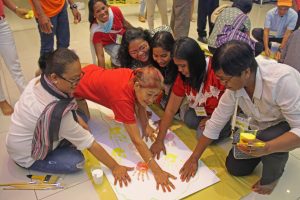 A vibrant atmosphere filled the conference hall of Sequoia Hotel, Quezon City, as delegates from different regions of the country were in high spirits while they ecstatically assemble for the mural painting. This activity was just one of the highlights during the Department of Social Welfare and Development's (DSWD's) 1st National Community Volunteers' Congress for the Kapit-Bisig Laban sa Kahirapan-Comprehensive and Integrated Delivery of Social Services (Kalahi-CIDSS) program held last August 17-18, 2017.
The participants of the said event composed of Barangay/Municipal Local Government Unit (B/MLGU) officials and Kalahi-CIDSS Community Volunteers (CVs) were divided into the following groups/assigned topics: Community-Driven Development (CDD) adoption, pathways or opportunities for B/MLGUs and CVs after DSWD Kalahi-CIDSS program, assessment on condition and multiple burden of CVs, and evaluation on DSWD Convergence from CVs point of view. The participants then creatively translated and conveyed their learnings and insights gained from the breakout sessions through the mural painting.
With their hands coated in different paint colors, together, each member of the group pressed onto the empty canvas. More than just artistic projects, the murals were a symbolic reflection and celebration of the beauty of community solidarity. This is precisely what programs such as DSWD Kalahi-CIDSS of the national government has aimed to promote for years with the use of the CDD strategy.  Through CDD, everyone in the community is provided with the opportunity to partake in the process and implementation of their community development projects that will address some of their needs.