In this millennium, we are often bombarded with ads, and what appeal to us the most are the jam-packed benefits that we get in one product.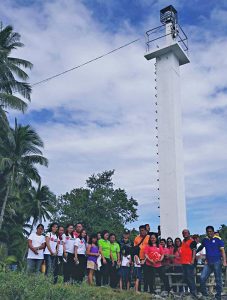 Similar to this is an unforgettable jam-packed day for the municipality of Bayabas in Surigao del Sur on the 24th day of August. It was not an ordinary day for the Bayabasnons because not just five, but seven sub-projects funded by the Department of Social Welfare and Development's (DSWD's) Kapit-bisig Laban sa Kahirapan-Comprehensive and Integrated Delivery of Social Services (Kalahi-CIDSS) program were inaugurated throughout the whole day; from the morning's warm breeze, to the sun's scorching heat, until the twilight's glow. Communities cheered in gratitude after receiving some of their most-awaited dream-come-true projects.
First of seven is the electric tower light installed in Brgy. Cabugo. "Where there is light, there is home. Dan-ag, giya, timailhan sa pauli-anan sa mga minahal nga naghulat," as poetically written by Mayor Maria Clarita G. Limbaro in her Facebook page. The facility is an answer to the agony of fisher folks on heading home without any lights to guide their steps. Related to this project are the 28 electric-powered street light units in Barangay La Paz and 20 units in Barangay Panaosawon.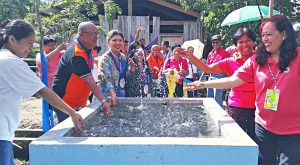 Fourth of seven is the 190-linear meter drainage canal in Barangay Amag. This will address the issue on water pollution since it naturally filters the waterways prior to its discharge in the bodies of water like rivers and ponds. Fifth of seven are the 4 concrete water tub units in Barangay Cagbaoto that supplies the needs of the barangays especially in doing daily household chores. The same project is also given to Barangay Balete.
Finally, a great convergence of the DSWD's Sustainable Livelihood Program (SLP) and Pantawid Pamilyang Pilipino Program, Department of Education (DepEd), and Department of Information and Communications Technology (DICT) resulted into building a Community Learning Tech4ED Center in Barangay Magobawok. This building benefits the out-of-school youth sector in Bayabas through the Alternative Learning System of DepEd with its unified slogan, "Sama-sama sa Landas ng Pag-unlad."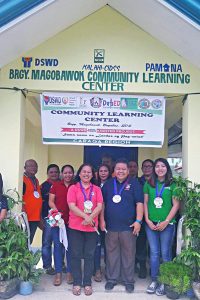 Among the 17 municipalities in Surigao del Sur, Bayabas is considered as a top perfomer in adapting the Community-Driven Development (CDD) strategy of Kalahi-CIDSS. Through the collective efforts and hardships of the community volunteers (CVs) from day 1 to final, these projects are made possible. Because of the empowered CVs and undying support of the Local Government Unit (LGU), this strategy will soon be institutionalized in the municipality as mentioned by Mayor Limbaro during the 3rd National Bayani Ka! Awards held at Quezon City. "You do it, we watch… we learn, and then let us do it together," she stated.
This shared responsibility between the community and LGU proves truer when little by little they are paving their way with optimism by being chosen as a potential passer for the Seal of Good Local Governance (SGLG) by the Department of the Interior and Local Governance a day before the turn-over of the seven Kalahi-CIDSS sub-projects. As worded by Mayor Limbaro, "To be a potential passer for SGLG is itself a big accomplishment for us. While it scales up, it shows that our LGU levels up and we are committed to sustain the culture of good governance to deliver inclusive, efficient and conscientious service to the people."
Being a 5th class municipality is not a hindrance for Bayabasnons to work their way towards development and each one of them has a part in attaining this – may it be a senior citizen, a PWD, an out-of-school youth, a known educator, and even a plain housewife. Truly, it was not just a day full of jam-packed community projects, but it also filled everyone's heart with jam-packed emotions and strong willpower that would encourage them to take part, contribute and push harder for the development of their beloved municipality. ###(JOANA RICA P. MILLAMA & MARKO DAVEY D. REYES /Social Marketing Unit/DSWD Field Office Caraga)