A bumpy, rocky, 48 minutes ride in one of the coastal barangays in Barobo, Surigao del Sur brings to a humble fishing community blessed with tall falcata and coconut trees. But amidst the façade of a scenic and calm community, at the end of the long rollercoaster ride lies a story of challenges and hope.
Sitio Maapod, one of the oldest barrios in Barangay Cabacungan, had long been experiencing discomfort due to lack of infrastructural amenities in their far-flung abode. But for the community, there was a turn-around, when in 2013, the Department of Social Welfare and Development's (DSWD's) Kapit-Bisig Laban sa Kahirapan-Comprehensive and Integrated Delivery of Social Services (Kalahi-CIDSS) was introduced in the area; a ray of hope beamed for the community and the Barangay Local Government Unit (BLGU). Slowly the ray of hope turned to bigger realities and strengthened relationships. The community enjoyed four good years under the program which formed sustainable relationships that led to four good sub-projects for the barangay.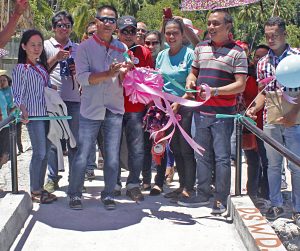 Punong Barangay Helario V. Curada, recalls, "Upat na ka-proyekto ang among nadawat gikan sa Kalahi-CIDSS. Ako mapasalamaton nga dako gayud ang kausaban sa mga recipients. Una, mautro gayud ang panginabuhian, sa tubig nga dili na sila mahago [ug kabo], sa daycare centers nga kumpleto gayud ug pasilidad ug komportable ang mga kabataan sailang pagtuon. Pero ang pinakaimportante ug pinakadako nga impact gayud sa tanan mao kining concrete footbridge nga mao ang exit ug entrance sa mga tawo diri sa Sitio Maapod (We received four projects from Kalahi-CIDSS and I am so thankful because the recipients were greatly changed. First, the lifestyle changes, the water is already accessible that it is not difficult for them to fetch; the daycare centers are built with complete facilities and comfortable enough for the pupils to study. But the most important and biggest impact of all is the concrete footbridge which serves as the exit and entrance of the residents here in Sitio Maapod)."
Curada still vividly recalls their situation before the construction of the 58-linear meter concrete footbridge. First, when it was low tide, residents were forced to cross the river since the boats could not dock. This caused injury to the residents, especially that there are sharp objects on the riverbanks. Second, residents had to pay double they had to go to the Poblacion since they will have to take the habal-habal then transfer to a "bangka" (boat) to cross the river.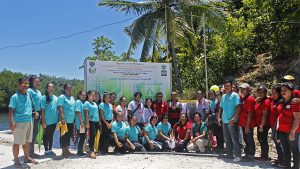 Lastly, Curada witnessed the hardwork of every community volunteer in realizing the said project – from the identification of their needs, attendance in general assemblies and meetings, and preparation of important documents just to show how badly they wanted to own their dream footbridge and end their long-time agony with the construction and completion of the community sub-project.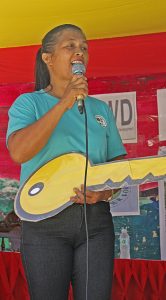 This was attested by Anita Lobo, the Barangay Sub-Project Management Committee (BSPMC) – Chairperson when she emotionally shared their challenges as residents in the remote sitio. "Grabe gayud kalisod sa amung kahimtang. Sauna, baruto ra ang amung sakyan na wala pa ang tulay. Maglisod gayud ug tabok ang mga tiguwang, PWDs ug labi na ang mga buntis (Our situation was really hard. Before, without the bridge, we only rode boats. It was hard for the senior citizens, PWDs, and especially the pregnant women to cross)," she said.
Their miseries turned into gladness as Kalahi-CIDSS' community-driven development (CDD) approach was introduced to the community. The CDD strategy was an instrument which gave the community access to decision-making for the realization of their needs. This led to the empowerment of the citizens by enabling them to be hands-on in implementing their community sub-project.
"Daghan gayud na mga pagsulay ug kabalaka ang naagian nako sama sa mga kaubanan na gahiay ug ulo kay dili magpakita sa mga seminars tungod sa mga pasumangil, pero ako nalang paningkamutan na ako ang mutambong ug ako nalang ipasabot sa ila ang mga buhaton pagkahuman (There were many challenges and worries that I experienced such as co-members who do not attend in seminars because of excuses, but I strive to attend and just convey the things that need to be done after)," Anita said.
Anita also mentioned that some of the members were almost on the point of giving up, but she stood still and held on hoping that the program will resolve their problem.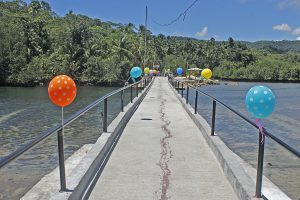 Their hardships were turned to joyous tears when the 3.2M-worth footbridge with a hand laid rock embankment was successfully inaugurated early in September this year.
Indeed, in the midst of slender discouragements coupled with anxieties, the once humble sitio now stands firm in building bridges and deeper relationships – ensuring that the next generations will no longer have to face the challenges they have been through. ###(JOANA RICA P. MILLAMA & MARKO DAVEY D. REYES /Social Marketing Unit/DSWD Field Office Caraga)