SURIGAO DEL SUR- Around 200 people gathered and filled the Carmen Municipal Gymnasium in this province to attend the Department of Social Welfare and Development (DSWD) Kapit-Bisig Laban sa Kahirapan-Comprehensive and Integrated Delivery of Social Services' (Kalahi-CIDSS') Municipal Talakayan held last September 15, 2017.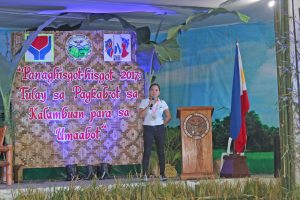 Barangay/Municipal Local Government Unit (B/MLGU) officials, Civil Society Organizations (CSOs) and DSWD Kalahi-CIDSS volunteers as well as non-volunteers converged in the venue for the event dubbed as: "Panaghisgot-hisgot 2017: Tulay sa Pagkab-ot sa Kalambuan para sa Umaabot."
DSWD Kalahi-CIDSS Caraga Monitoring and Evaluation (M&E) officers and Sub-Regional Program Management Office (SRPMO) staff along with the Area Coordinating Team (ACT) of Carmen in partnership with the Foundation for the Development of Agusanons, Inc. (FDAI) facilitated the said activity.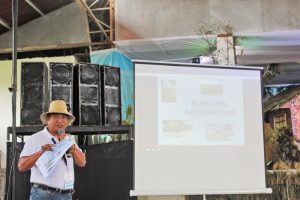 Designed as an evaluation tool to measure overall progress of areas implementing Kalahi-CIDSS sub-projects, the Municipal Talakayan is an avenue for local stakeholders to engage in an organized municipal-level democratic dialogue to tackle and assess development status of the municipality with the aid of different data gathered from the comprehensive reports on Kalahi-CIDSS project implementation and local governance management performance.
Municipal Mayor Jane V. Plaza in her welcome remarks expressed her gratitude to the attendees. She also encouraged them to participate in the activity in order to enhance their awareness of their municipality's development situation in line with their efforts to achieve their development vision.
"I would like to stress the importance of an empowered community. That is why we are here, that is why all of you from the community are invited because we want also to know if the projects that we have been implementing and even the projects that we are planning and will be prioritizing will fit or will fill in the gaps that we see when we crafted the vision. This is a good venue where we are able to look at where we are now. This is to determine if our actions are still anchored to that vision, "Plaza said.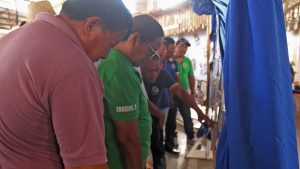 Lucy Herbolingo-Arpilleda, DSWD Kalahi-CIDSS M&E officer for database, also emphasized the significance of the Municipal Talakayan to help improve local governance by the use of information generated from the activity.
"One of the main objectives of this activity is to see if the identified needs in the barangay level coincide with the municipal-level. This will help ensure that the programs and services that will be included in the crafting of the municipal development plan will be more responsive to the needs of the people,"Arpilleda said.
The one-day event, comprised of five (5) learning sessions, had elaborate presentations of the following: Municipal profile and development status, development needs, interventions and gaps, and municipal agenda. It also included a gallery walk and focus group discussions (FGDs), and concluded with synthesis and evaluation of the Municipal Talakayan.