SURIGAO DEL SUR-Street lights powered by solar energy will now brighten up some communities at night as the Department of Social Welfare and Development (DSWD) through the Kapit-Bisig Laban sa Kahirapan-Comprehensive and Integrated Delivery of Social Services (Kalahi-CIDSS) program successfully turned over solar-powered streetlights to two barangays of the municipality of Carmen in this province last September 5, 2017.
Residents of Barangay Cancavan received 40-unit solar powered streetlights worth Php1,244,728.80 while Barangay Antao accepted 28-unit solar powered streetlights worth Php874,750 during the back-to-back inauguration. The DSWD Kalahi-CIDSS funded community project was realized through the collaboration of the Kalahi-CIDSS community volunteers with the support of the Local Government Unit (LGU) of Carmen.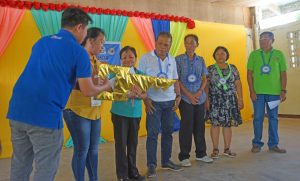 Municipal Mayor Jane V. Plaza as well as Vice Mayor Teofila C. Cabatuan along with some Sangguniang Bayan (SB) members and Barangay LGU officials graced the event.
The DSWD Kalahi-CIDSS program office was represented by Engr. Wilfredo T. Maquiling Jr., Community Infrastructure Officer (CIO)-III of the Sub-Regional Program Management Office (SRPMO) Surigao, and the Area Coordinating Team (ACT) of Carmen headed by Divina S. Nilda.
Before the streetlights were installed, inhabitants of the two barangays relied on regular light bulbs and gas lamps to light up their homes and roads at night. Several cases of theft were reported in the area of which most residents say they mainly attributed to the lack of streetlights.
Rosalie R. Berador, a barangay kagawad of Cancavan, shared how most people of the barangay used to dread the unlit pathways when night falls.
"Sauna kung magbaktas kami pasingud dadto sa among puy-an, manlibarot amung balahibo kay dugyom kaajo. Karun dili na gayud kami mangahadlok ug gana na ang amung pagpanaw tungod naay gihatag sa gobyerno  ug sa Ginoo na kahayag dinhi sa among barangay (Before, when we head back to our homes [at night] we get goosebumps because it is pitch dark. Now, we are not scared anymore and we can already traverse fine because there is now light provided by the government and God to our barangay), "Berador said.
The said community project was identified as a priority need during the DSWD Kalahi-CIDSS facilitated Barangay Participatory Situational Analysis (BPSA) activity where communities gather to assess and analyze current socio-economic and political situation. As the program uses the Community-Driven Development (CDD) principle, different stakeholders in the community are encouraged to partake in determining pressing community needs as well as proposing and implementing solutions that will answer these.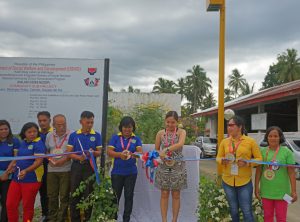 Barangay Representation Team (BRT) chairperson of Antao, Rosalinda M. Elimanco, appreciated the process she went through in the course of their project implementation. She highlighted this in her testimonial speech during the inauguration.
"Adisir matapos ang usa ka proyekto, muagi pa ug daghan proseso. Dili lalim na himuon pero nagpasalamat ako sa tanan trainings na akong na agian pinaagi sa Kalahi-CIDSS. Magamit kini nako  [para  ma improve ]akong kaugalingon ug  ang komunidad (Before a project is completed, it will go through a lot of process. It is not easy to do but I am grateful for all the trainings I have undergone through Kalahi-CIDSS. I can use them to [improve] myself and the community,"Elimanco shared.
The cost-efficient and environmentally friendly solar-powered technology will benefit around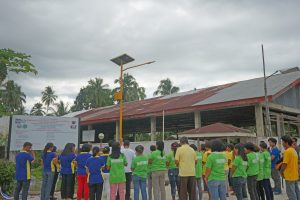 107 households of Brgy. Cancavan and 236 households of Brgy. Antao.
Municipal Mayor Jane V. Plaza thanked the community volunteers of the beneficiary barangays and hoped that they will not waver from helping their communities improve.  She also asked their continued cooperation as the municipality was newly granted a funding for their Food Terminal project from the DSWD Kalahi-CIDSS Livelihood & Enterprise (L&E) modality.
"I hope na hindi matapos ang taon na ito we can implement the L& E project. Imagine kayo po ang mag iimplement ng isang project na makakapag benefit sa buong Carmen. Ngayon pa lamang nagpapasalamat na po ako sa inyong lahat (I hope before the year ends, we can already implement the L&E project. Just imagine you will be able to implement a project that will benefit everyone in Carmen. Right now, I am already thankful to you all, "Plaza said.