BUTUAN CITY- Elementary and secondary students from Butuan and Surigao City championed the recently concluded first Social Welfare and Development Learning-Network (SWD L-Net) Inter School Quiz Bowl (Regional Level) Competition on September 28, 2017 at Robinsons Place this city.
The seven participating schools in the said competition were all winners on the division level of the quiz bowl which happened in August this year.
Each school was participated by three students. They competed for easy, average, and difficult rounds. The questions are based on the current events, SWD L-NET, law and issuances for the protection of children, Disaster Risk Reduction, and Climate Change Adaptation.
For elementary category, Ong Yiu Central Elementary School placed first with the score of 37, followed by Kiawan Elementary School of Bayugan City with 28, and Tagbina Elementary School of Surigao del Sur with 26 placing them at 2nd and 3rd spot respectively.
While for secondary category, Caraga Regional Science High School of Surigao City got the first place, Butuan City School of Arts and Trades got the 2nd place, and Claver National High School of Surigao del Norte got the 3rd place.
Both elementary and secondary students winners received cash prizes of Php5,000 for 1st place, Php4,000 and Php3,000 for 2nd and 3rd place respectively. They were also awarded with medals, certificates, and trophies.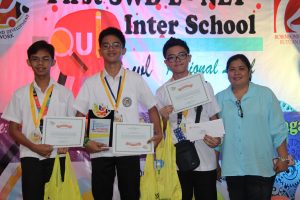 The quiz bowl, with the theme "Knowledge Sharing through Caraga SWD L-NET", was organized by the members of SWD L-NET which is chaired by DSWD and co-chaired by Habitat for Humanity. It aims to promote and popularize the SWD L-NET and advocate the Regional Learning Commons (RLC), the 21st century library of DSWD-Caraga.
The SWD L-NET was created through AO 20, series of 2005. Its objective is to establish a self-regulating learning network where members and SWD constituencies can provide and avail of quality SWD capacity building programs, to access SWD constituencies to quality capacity building programs, and to sustain the functionality and viability of the learning network to ensure available, accessible and quality capacity building programs to constituencies and clientele.###(ABEGAIL R. ALVAREZ/Social Marketing Unit/DSWD Field Office Caraga)