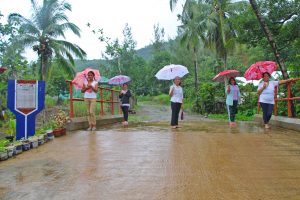 Community volunteers and local officials of Barangay Wilson, San Jose, Province of Dinagat Islands breathe in easy and smile with relief as they confidently stand and pose on their double barrel box culvert (with railings) community project. Crossing the bridge in fear (that it might collapse) is clearly now a thing of the past for residents of the barangay.
For several years, a timber bridge without railings used to connect Purok 1 and 2. However, as time passed by, with extended use and extreme weather conditions, the structural integrity of the wooden bridge deteriorated even if it undergoes periodic maintenance work from the barangay officials.  Some of the running boards of the bridge were already worn out making it unreliable and dangerous for passersby. In fact, there were even reports of some people and motorcycle riders who fell off from the bridge while navigating on its slippery, dilapidated timber decks. The worst case suffered a fracture from the mishap. This resulted to a surge of complaints from residents as they claim that the bridge was increasingly risky to traverse. Recognizing the need of a sturdier and more durable bridge structure, the community unanimously decided to propose the sub-project for funding through the Kapit-Bisig Laban sa Kahirapan-Comprehensive and Integrated Delivery of Social Services (Kalahi-CIDSS) program.
Kalahi-CIDSS is one of the core programs of the Department of Social Welfare and Development (DSWD) that provides community development grants to eligible municipalities particularly in areas with high poverty incidence. The program uses the Community-Driven Development (CDD) strategy to facilitate empowerment of citizens. With this mechanism, the community is given the opportunity to participate in localized solutions and implement development projects addressing the community problems they themselves identified.