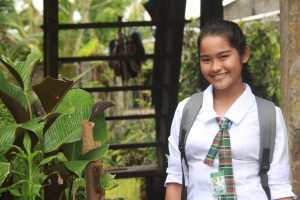 Obedient. Happy. Generous. Hardworking. Determined. Artistic. Athlete. Inspired. These are some of the finest qualities that would best describe Caraga's bet to the 2017 National Search for Exemplary Child.
She is  the second child of Mr. Cristopher and Mrs. Gemma Nuyad, born after Crystalghem, her elder sister and before younger brother Christoff Aljoe. She is 13 years old and currently studying as a grade 10 student in Tubod National High School, San Pablo Tubod, Surigao del Norte. Her name is Quia Monique B. Nuyad.
At a young age, Quia has been trained to become self-reliant and independent. Her father works overseas as a company concierge earning P18,000 per month. Her mom on the other hand is a manager in a Sustainable Livelihood Program (SLP) Association earning P4,000 a month.
All their needs at home and at school are taken out from the income of her parents. Having this situation daily has challenged Quia to focus on her studies so she could inspire her siblings and her parents who are working hard to make ends meet.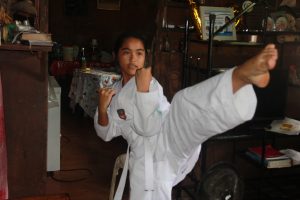 Way back her kindergarten days, she stood up among her classmates as she always tops the class as the most outstanding pupil. Even during her early years in school, Quia's talent in public speaking and giving life to the pieces of paper she reads were all manifestations of the bright future that awaits her.
As she enters the grade year, she started learning the fundamentals of life which eventually challenged her to pursue her studies and get good grades.
"When I was in elementary, I noticed that there are a lot of children who are not given the privilege to study. I am thankful to my parents because despite the hardships they encounter every day, they struggle very hard just to send us to school and to provide our needs. This is something that I will treasure forever, to study and to study more," said Quia.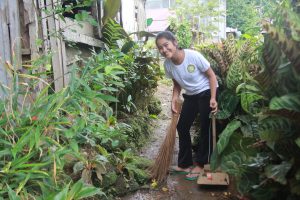 In exchange of her parent's efforts, Quia surprised them with good grades and awards such as honorary awards, tops many school competitions like Story Telling, Quiz Bowl, Cheer Dancing, Declamation, Interpretative Dancing and even in gymnastic activities. All her struggles were paid off as she was sent to regional level competition to contest with other outstanding students coming from other provinces regionwide.
Her enthusiasm in her studies and the intense support of her parents has made Quia a better person.
Complementing her parent's values and attitude in dealing with family issues, and even community issues as a whole has been her model as she has been trying to achieve big in her present life.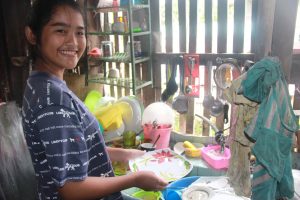 She is active in community activities as documented in her participation in church activities like her involvement as member of Saint Cecilia Junior Choir, Server of the Altar, Children of Mary, Rosary Leader and Basic Ecclesial Community.
Not just these, Quia also participates in Pasko sa Banay Program, involved in Sangguniang Kabataan (SK) planned activities, Community Cleaning and being a student-teacher during Flores de Mayo.
Furthermore, just recently, Quia receives numerous awards in school such as in Tagisan ng Talino, Math Jingle, Sci-Tech Dance, Awit Pandalawahan, Science and Math Quiz Bowls, Campus Journalist Award in her active participation to feature writing and radio broadcasting competitions.
Her leadership skills were also honed as she is always elected as one of the class officers and even brought her to the Supreme Student Government (SSG).
"My parents are my inspiration why I always do well in my studies. By doing this, my parents will also be inspired to work hard for my other siblings because we are giving justice to the many sleepless nights they went through just to ensure that we are living a comfortable life. A kind of life that my father is trying to give us," Quia added.
As a child, Quia together with her elder sister helps their mother in some household activities. She cooks food, washes the dishes, and even takes care of their backyard garden. She also helps her mom in cleaning their back and front yard before she goes to school.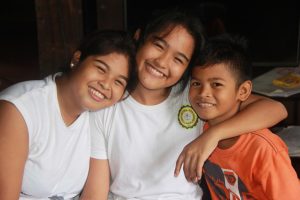 Quia also shared that their involvement as an active member of the Pantawid Pamilyang Pilipino Program for six (6) years has helped them save some amount as the funds given by the program in exchange of their active compliance to its conditionalities are spent well in school, and thereby ensuring that health needs are addressed too.
"Before, especially during the time that my father is yet to land a job, we were struggling how to survive. There were even scenarios that we only eat two (2) times in a day. With the program, we were uplifted from poverty through its assistance in education, health and now, the additional grants for rice subsidy," Quia shared.
"I could not ask for more. Pantawid Pamilyang Pilipino Program is not a hero because it can't solve everything. But this program has opened us windows of opportunities," she exclaimed.
"Once we dream, we act to make it happen. The process may be tough, but never quit. You will never know unless you tried, so why give up? Giving up is never an option towards success. The only option towards change and development is when you brave yourself to conquer your fears, to conquer your insecurities. Now is the time. Focus to your dreams and make it happen," closed Quia.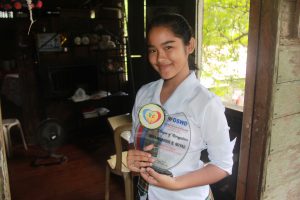 Every opportunity is lighted with passion. Passionate as she is, this child from Caraga cannot wait to share the little she has. This soon to be medical doctor from Surigao del Norte  is ready to share her little story, to share her little success to the world.###RyanMalbasTapayanSocialMarketingUnitDSWDFieldOfficeCaraga###